Facts & Figures
This page presents the main information and indicators regarding research at the University of Milan.
This is fundamental data for understanding and measuring the impact of research on the life of citizens and on the growth of the country.
Collection and publication of data is also important for transparency, a commitment to account for the use of national public funds for development, enabling citizens to better assess the importance of public expenditure for education and research and to appreciate the results.
Italy ranks among the top positions in the world for research investment productivity.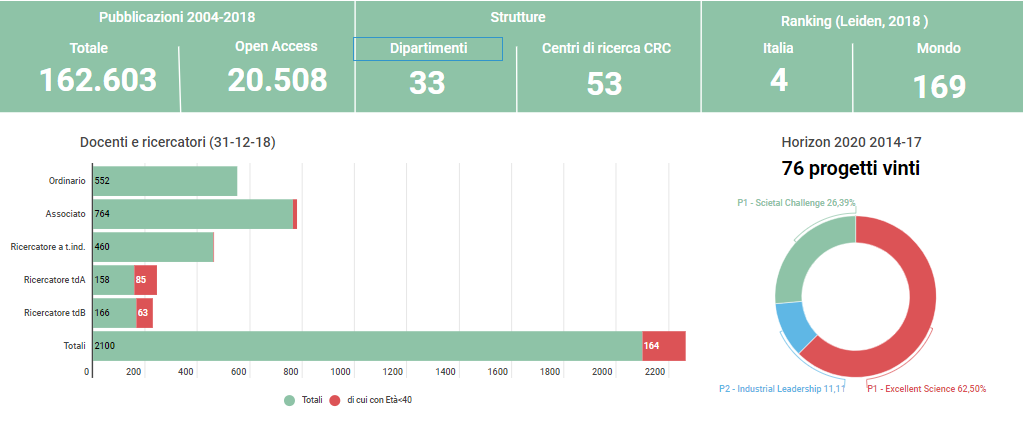 Data summary
The University of Milan is the fifth biggest university in Italy, with 59,775 students enrolled in 137 degree courses and 1772 postgraduate students.
Publications in 2018: 7.797
Top 10% area publications: 21,6%
FWCI 1,71
Open access publications (source wos, source AIR): 20.508
43,4% of publications from international collaborations: PUB: 12.500 – CIT. 208783
38,2% of publications from national collaborations: PUB: 11.014 – CIT. 81989
6,5 % of publications by single author PUB: 1879 – CIT. 3314
Research international ranking (between 3 and 7 in Italy)
First place in Italy for veterinary medicine and biomedical research
59.775 current students
136 degree programmes
1.772 post graduate students,
University of Milan is 5th in Italy (for dimentions).
| Students,teaching staff and reseachers | N |
| --- | --- |
| Undergraduate students | 36.717 |
| Post graduate students (master) | 23.058 |
| Enroled students in  2018/9 | 12.556 |
| Graduates in 2018 | 11.624 |
| PhD students | 869 |
| Postgraduate schools students | 319 |
| Teaching and research stafff | 2100 |
| Reseachers under 40 | 150 |