Online graduation sessions
Online graduation sessions
Remote graduation sessions, where available, are held on Microsoft Teams.
This page lists the tools and operations required of upcoming graduates for online sessions:
1. Requirements
To ensure videoconference quality, your computer must have the following equipment:
A webcam for video streaming
Headphones with microphone for optimal audio management. Otherwise, you can use the computer speakers and microphone, but the session may be noisy and audio quality may be affected
A stable Internet connection
If you cannot meet these requirements, please contact the University through Informastudenti.
2. Microsoft Teams
Graduation sessions will take place on Microsoft Teams. To access Office 365 and Teams services, use your institutional address (@studenti.unimi.it).
On the Unimi portal page  "Microsoft - Office 365 Education" you will find:
The guide for activating the speakers and microphone
The link to download and install the Teams app on your computer (recommended option for improved performance)
3. Graduation session
Upcoming graduates will be invited to connect to Microsoft Teams as scheduled (date and time) in the dedicated section of the University portal: Programme-specific procedures and deadlines.
The invitation will be sent to your institutional email (@studenti.unimi.it), with a confirmation that you were added to the "Team" for your graduation session. 
Please connect well in advance: after logging in to the "Team", you will see a camera icon next to your name.

To access the live graduation session, click Join in the Post section.
A meeting setup window will be displayed: make sure the audio and video are on, then click on Join now.
The Degree Board  will identify the candidate by their identity document and will start the graduation session.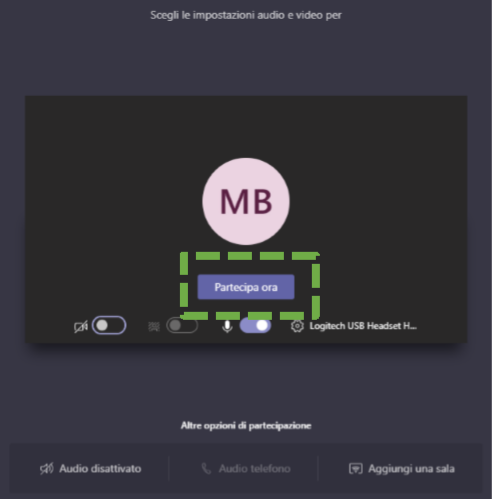 For sharing options, click on the corresponding icon in the "call command bar". A menu will allow you to select different sharing options: PowerPoint, PC desktop or an application open on your PC. 
If you need to share a PowerPoint file,  click on browse in the sharing window and upload the file from one of the Team channels (if you have previously uploaded it to the channel), from OneDrive or from the computer hard disk.
Once uploaded, the PowerPoint file will appear on the screen with the navigation controls to scroll through slides.
To stop sharing, click on stop presentation.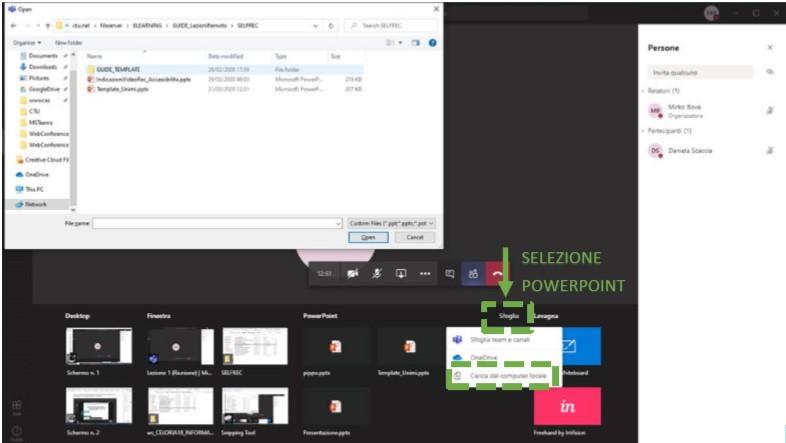 At the end of the discussion, the Degree Board will agree on the degree mark privately, by pausing the video conference with candidates.
The Board will then announce graduates by reopening the video conference with candidates.
 It is strictly forbidden to record graduation sessions.