Henke Albert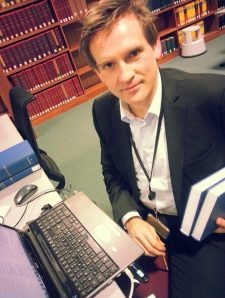 Researcher
SSD
IUS/15 - CIVIL PROCEDURAL LAW
Competition sector
12/F1 - CIVIL PROCEDURAL LAW
Research fields and competencies
Teaching - Programme courses
A.Y. 2020/2021
A.Y. 2019/2020
Research
Publications
Employment relations via the web with international elements: Issues and proposals as to the applicable law and determination of jurisdiction in light of EU rules and principles / M.T. Carinci, A. Henke. - In: EUROPEAN LABOUR LAW JOURNAL. - ISSN 2031-9525. - 2020(2020 May), pp. 1-23.

L'efficacia non vincolante dei pareri consultivi della Corte di Strasburgo. Un confronto con il meccanismo del rinvio pregiudiziale alla Corte di Giustizia ex art 267 TFUE / A. Henke. ((Intervento presentato al convegno Il "Protocollo del Dialogo" nel Dialogo fra Discipline : La prima applicazione della procedura consultiva del Protocollo XVI alla CEDU in una prospettiva multidisciplinare tenutosi a Milano nel 2019.

Choice of Law and Jurisdiction Clauses in Transnational Labour Contracts. Issues and Challenges arising out of the CJEU's Decision in the "Ryanair case": Applicable Law and Competent Court for "peripatetic workers" and "workers via the web" / M.T. Carinci, A. Henke. ((Intervento presentato al convegno LLRN 4 Valparaíso: A global conversation about Labour Law tenutosi a Vaparaiso nel 2019.

Rapporti di lavoro via web con elementi di internazionalità : quali sono la legge applicabile e il foro competente per il diritto UE? / M.T. Carinci, A. Henke. - In: DIRITTO DELLE RELAZIONI INDUSTRIALI. - ISSN 1121-8762. - 29:4(2019), pp. 1041-1072.

La giurisdizione consultiva della Corte di Strasburgo nel nuovo Protocollo N. 16 alla CEDU / A. Henke. - In: RIVISTA DI DIRITTO PROCESSUALE. - ISSN 0035-6182. - 73:4-5(2018), pp. 1244-1270.