Henke Albert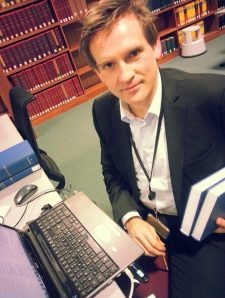 Researcher
SSD
IUS/15 - CIVIL PROCEDURAL LAW
Competition sector
12/F1 - CIVIL PROCEDURAL LAW
Research fields and competencies
Teaching - Programme courses
A.Y. 2021/2022
A.Y. 2020/2021
A.Y. 2019/2020
Research
Publications
What future for the eurozone after Karlsruhe? / A. Henke. - In: RUSSIAN LAW JOURNAL. - ISSN 2309-8678. - 9:1(2021 Mar), pp. 114-137.

Employment relations via the web with international elements: Issues and proposals as to the applicable law and determination of jurisdiction in light of EU rules and principles / M.T. Carinci, A. Henke. - In: EUROPEAN LABOUR LAW JOURNAL. - ISSN 2031-9525. - 12:2(2021), pp. 134-155. [10.1177/2031952520922248]

Dell'ammutinamento tedesco alla UE e alle sue Istituzioni / A. Henke. - In: IL DIRITTO DEGLI AFFARI. - ISSN 2281-4531. - 2020:2(2020), pp. 4-13.

L'incerto destino dell'eurozona a seguito della decisione della Corte costituzionale tedesca del 5 maggio 2020 / A. Henke. - In: IL CORRIERE GIURIDICO. - ISSN 1591-4232. - 37:10(2020), pp. 1165-1177.

L'efficacia non vincolante dei pareri consultivi della Corte di Strasburgo. Un confronto con il meccanismo del rinvio pregiudiziale alla Corte di Giustizia ex art 267 TFUE / A. Henke. ((Intervento presentato al convegno Il "Protocollo del Dialogo" nel Dialogo fra Discipline : La prima applicazione della procedura consultiva del Protocollo XVI alla CEDU in una prospettiva multidisciplinare tenutosi a Milano nel 2019.