Contini Alessandro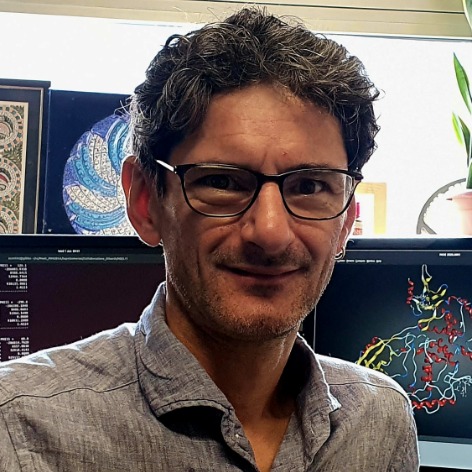 Associate Professor
SSD
CHIM/06 - ORGANIC CHEMISTRY
Competition sector
03/C1 - ORGANIC CHEMISTRY
Research fields and competencies
Publications
Discovery of a D-pro-lys peptidomimetic inhibitor of MMP9 : Addressing the gelatinase selectivity beyond S1′ subsite / E. Lenci, A. Contini, A. Trabocchi. - In: BIOORGANIC & MEDICINAL CHEMISTRY LETTERS. - ISSN 0960-894X. - 30:20(2020 Oct 15), pp. 127467.1-127467.6.

Enantioselective Synthesis of cis and trans 4-Aminopipecolic Acids as γ-Amino Acids for the Construction of Cyclic RGD-Containing Peptidomimetics Antagonists of αVβ3 Integrin / F. Dordoni, D. Scarpi, F. Bianchini, A. Contini, E.G. Occhiato. - In: EUROPEAN JOURNAL OF ORGANIC CHEMISTRY. - ISSN 1434-193X. - 2020:28(2020 Aug 02), pp. 4371-4383.

Non-natural 3-Arylmorpholino-β-amino Acid as a PPII Helix Inducer / F. Vaghi, R. Bucci, F. Clerici, A. Contini, M.L. Gelmi. - In: ORGANIC LETTERS. - ISSN 1523-7060. - 22:15(2020 Jul 30), pp. 6197-6202.

Tuning PFKFB3 Bisphosphatase Activity Through Allosteric Interference / H. Macut, X. Hu, D. Tarantino, E. Gilardoni, CLERICI FRANCESCA, L. Regazzoni, A. Contini, S. Pellegrino, M. Luisa Gelmi. - In: SCIENTIFIC REPORTS. - ISSN 2045-2322. - 9:1(2019 Dec 30).

Discovery of small molecule binders of human FSHR(TMD) with novel structural scaffolds by integrating structural bioinformatics and machine learning algorithms / B. Sahu, S. Shah, K. Prabhudesai, A. Contini, S. Idicula-Thomas. - In: JOURNAL OF MOLECULAR GRAPHICS & MODELLING. - ISSN 1093-3263. - 89(2019 Jun), pp. 156-166.