Ferrara Alfio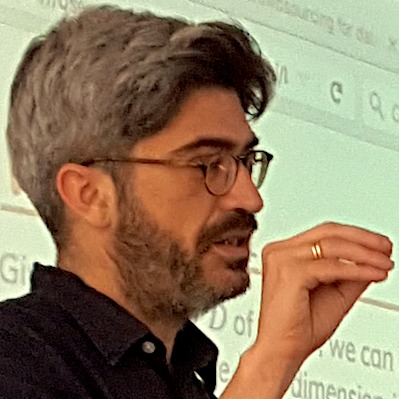 Full professor
Competition sector
01/B1 - INFORMATICS
Research fields and competencies
On appointment. The meeting will be online until the end of the Covid emergency
Office
Department of Computer Science, via Celoria 18 Milano, Room 7012 (7 floor)
Teaching - Programme courses
A.Y. 2021/2022
A.Y. 2020/2021
A.Y. 2019/2020
A.Y. 2018/2019
Research
Publications
The Milano Sforza Registers / E. Mario Biganzoli, F. Vaglienti, P. Boracchi, E. Luconi, S. Castaldi, A. Ferrara, C. Panella, M. Galli. - (2021 Feb 12).

Improving the accuracy of automatic facial expression recognition in speaking subjects with deep learning / S. Bursic, G. Boccignone, A. Ferrara, A. D'Amelio, R. Lanzarotti. - In: APPLIED SCIENCES. - ISSN 2076-3417. - 10:11(2020 Jun), pp. 4002.1-4002.15.

Crowd-assessing quality in uncertain data linking datasets / D. Faria, A. Ferrara, E. Jimenez-Ruiz, S. Montanelli, C. Pesquita. - In: KNOWLEDGE ENGINEERING REVIEW. - ISSN 0269-8889. - 35(2020), pp. e33.1-e33.25.

Leveraging crowd skills and consensus for collaborative web-resource labeling / S. Castano, A. Ferrara, S. Montanelli. - In: FUTURE GENERATION COMPUTER SYSTEMS. - ISSN 0167-739X. - 95(2019 Jun), pp. 790-801.

The CRIKE Data-Science Process for Legal Knowledge Extraction / S. Castano, M. Falduti, A. Ferrara, S. Montanelli (CEUR WORKSHOP PROCEEDINGS). - In: SEBD 2019 / [a cura di] M. Mecella, G. Amato, C. Gennaro. - [s.l] : CEUR, 2019. (( Intervento presentato al 27. convegno Italian Symposium on Advanced Database Systems : June 16th to 19th tenutosi a Castiglione della Pescaia (Grosseto) nel 2019.