D'Amato Alfonsina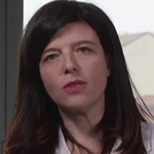 Fixed-term Research Fellow B
SSD
CHIM/01 - ANALYTICAL CHEMISTRY
Competition sector
03/A1 - ANALYTICAL CHEMISTRY
Research fields and competencies
Publications
Advanced quantitative proteomics to evaluate molecular effects of low-molecular-weight hyaluronic acid in human dermal fibroblasts / S. Radrezza, G. Baron, S.B. Nukala, G. Depta, G. Aldini, M. Carini, A. D'Amato. - In: JOURNAL OF PHARMACEUTICAL AND BIOMEDICAL ANALYSIS. - ISSN 0731-7085. - 185(2020 Jun 05), pp. 113199.1-113199.8.

Identification of Genes Required for Glucan Exopolysaccharide Production in Lactobacillus johnsonii Suggests a Novel Biosynthesis Mechanism / M.J. Mayer, A. D'Amato, I.J. Colquhoun, G. Le Gall, A. Narbad. - In: APPLIED AND ENVIRONMENTAL MICROBIOLOGY. - ISSN 0099-2240. - 86:8(2020 Apr 01), pp. e02808.1-e02808.15.

"1984": What Orwell could not predict : Proteomic analysis of his scripts / Y. Saravayskaya, G. Zilberstein, R. Zilberstein, S. Zilberstein, U. Maor, A. D'Amato, P.G. Righetti. - In: ELECTROPHORESIS. - ISSN 0173-0835. - (2020). [Epub ahead of print]

Silkworm pupae as source of high-value edible proteins and of bioactive peptides / A.A. Altomare, G. Baron, G. Aldini, M. Carini, A. D'Amato. - In: FOOD SCIENCE & NUTRITION. - ISSN 2048-7177. - (2020). [Epub ahead of print]

Differentially Expressed Proteins in Primary Endothelial Cells Derived From Patients With Acute Myocardial Infarction / S.B. Nukala, L. Regazzoni, G. Aldini, E. ZODDA, O. Tura-Ceide, N.L. Mills, M. Cascante, M. Carini, A. D'Amato. - In: HYPERTENSION. - ISSN 0194-911X. - 74:4(2019 Oct), pp. 947-956.