Brini Anna Teresa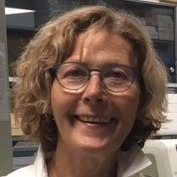 Associate Professor
SSD
BIO/14 - PHARMACOLOGY
Competition sector
05/G1 - PHARMACOLOGY, CLINICAL PHARMACOLOGY AND PHARMACOGNOSY
Research fields and competencies
Publications
Covid-19-The real role of NSAIDs in Italy / L. de Girolamo, G.M. Peretti, N. Maffulli, A.T. Brini. - In: JOURNAL OF ORTHOPAEDIC SURGERY AND RESEARCH. - ISSN 1749-799X. - 15:1(2020 May), pp. 165.1-165.3.

Management of osteoarthritis during COVID-19 pandemic / E. Ragni, L. Mangiavini, M. Viganò, A.T. Brini, G. Peretti, G. Banfi, L. de Girolamo. - In: CLINICAL PHARMACOLOGY & THERAPEUTICS. - ISSN 0009-9236. - (2020). [Epub ahead of print]

Determination of PTCA concentrations in hair by UHPLC-MS/MS and fluorescence techniques: a study on a wide multi-ethnic population with forensic applications / S. Casati, I. Angeli, A. Ravelli, C. Giannasi, A.T. Brini, M. Minoli, M. Orioli. ((Intervento presentato al 57. convegno Annual Meeting of The International Association of Forensic Toxicologists tenutosi a Birmingham nel 2019.

Comprehensive Molecular Characterization of Adamantinoma and OFD-like Adamantinoma Bone Tumors / N. Ali, S. Niada, M. Morris, A.T. Brini, D. Huen, V. Sumathi, F. Latif. - In: THE AMERICAN JOURNAL OF SURGICAL PATHOLOGY. - ISSN 0147-5185. - 43:7(2019 Jul), pp. 965-974.

Microfragmented human fat tissue is a natural scaffold for drug delivery : potential application in cancer chemotherapy / G. Alessandri, V. Coccè, F. Pastorino, R. Paroni, M. Dei Cas, F. Restelli, B. Pollo, L. Gatti, C. Tremolada, A. Berenzi, E. Parati, A.T. Brini, G. Bondiolotti, M. Ponzoni, A. Pessina. - In: JOURNAL OF CONTROLLED RELEASE. - ISSN 0168-3659. - 302(2019 May), pp. 2-18.