Casiraghi Antonella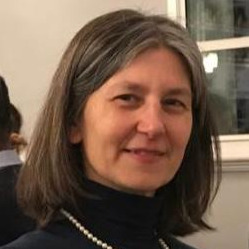 Researcher
SSD
CHIM/09 - PHARMACEUTICAL AND TECHNOLOGICAL APPLICATIONS OF CHEMISTRY
Competition sector
03/D2 - DRUG TECHNOLOGY, SOCIOECONOMICS AND REGULATIONS
Research fields and competencies
Advance Course Coordinator
La gestione dei dispositivi medici e cosmetici: aspetti regolatori (IZ9)
Teaching - Programme courses
A.Y. 2021/2022
A.Y. 2020/2021
A.Y. 2019/2020
A.Y. 2018/2019
Research
Publications
Stability of high concentrated triple intrathecal therapy for pediatrics and mitigation strategies / D. Zanon, F. Selmin, G. Centin, N. Maximova, A. Casiraghi, P. Minghetti. - In: EUROPEAN JOURNAL OF PHARMACEUTICAL SCIENCES. - ISSN 0928-0987. - 167(2021 Dec 01), pp. 106039.1-106039.5. [10.1016/j.ejps.2021.106039]

Intranasal Oxytocin and Social Interactions in 5 Patients With High-Functioning Autism Spectrum Disorder / B. Demartini, V. Nistico, V. Bertino, R. Faggioli, A. Casiraghi, D. Mazza, R. Ferrucci, A. Priori, O. Gambini. - In: JOURNAL OF CLINICAL PSYCHOPHARMACOLOGY. - ISSN 0271-0749. - 41:1(2021), pp. 86-89.

Optical Measurements of Sweat for in Vivo Quantification of CFTR Function in Individual Sweat Glands / D. Treggiari, K. Kleinfelder, M. Bertini, G. Tridello, A. Fedrigo, E. Pintani, P. Iansa, A. Casiraghi, P. Minghetti, M. Cipolli, C. Sorio, P. Melotti. - In: JOURNAL OF CYSTIC FIBROSIS. - ISSN 1569-1993. - (2021). [Epub ahead of print]

Phytocannabinoids profile in medicinal cannabis oils: the impact of plant varieties and preparation methods / M.V. Dei Cas, E. Casagni, A. Casiraghi, P. Minghetti, D.M.M. Fornasari, F. Ferri, S. Arnoldi, V. Gambaro, G. Roda. - In: FRONTIERS IN PHARMACOLOGY. - ISSN 1663-9812. - (2020 Nov). [Epub ahead of print] [10.3389/fphar.2020.570616]

Topical administration of cannabidiol: Influence of vehicle-related aspects on skin permeation process / A. Casiraghi, U.M. Musazzi, G. Centin, S. Franze, P. Minghetti. - In: PHARMACEUTICALS. - ISSN 1424-8247. - 13:11(2020 Oct), pp. 337.1-337.12.