D'Agostino Armando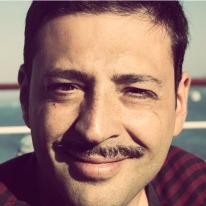 Fixed-term Research Fellow B
Competition sector
06/D5 - PSYCHIATRY
Research fields and competencies
Teaching - Programme courses
A.Y. 2020/2021
A.Y. 2019/2020
A.Y. 2018/2019
Research
Publications
Impact of the first Covid-19 pandemic wave on first episode psychosis in Milan, italy / C.M. Esposito, A. D'Agostino, B. Dell Osso, A. Fiorentini, C. Prunas, A. Callari, L. Oldani, E. Fontana, G. Gargano, B. Viscardi, B. Giordano, S. D'Angelo, F. Wiedenmann, M. Macellaro, F. Giorgetti, N. Turtulici, O. Gambini, P. Brambilla. - In: PSYCHIATRY RESEARCH. - ISSN 0165-1781. - 298(2021 Apr).

Depressive symptoms and depression in individuals with internet gaming disorder: A systematic review and meta-analysis / E.G. Ostinelli, C. Zangani, B. Giordano, D. Maestri, O. Gambini, A. D'Agostino, T.A. Furukawa, M. Purgato. - In: JOURNAL OF AFFECTIVE DISORDERS. - ISSN 0165-0327. - 284(2021 Apr 01), pp. 136-142.

Classification of Psychoses Based on Immunological Features: A Machine Learning Study in a Large Cohort of First-Episode and Chronic Patients / P. Enrico, G. Delvecchio, N. Turtulici, A. Pigoni, F.M. Villa, C. Perlini, M.G. Rossetti, M. Bellani, A. Lasalvia, C. Bonetto, P. Scocco, A. D'Agostino, S. Torresani, M. Imbesi, F. Bellini, A. Veronese, L. Bocchio-Chiavetto, M. Gennarelli, M. Balestrieri, G.I. Colombo, A. Finardi, M. Ruggeri, R. Furlan, P. Brambilla. - In: SCHIZOPHRENIA BULLETIN. - ISSN 0586-7614. - (2021). [Epub ahead of print]

Neurocognitive and neurophysiological endophenotypes in Schizophrenia: an overview / F.L. Donati, A. D'Agostino, F. Ferrarelli. - In: BIOMARKERS IN NEUROPSYCHIATRY. - ISSN 2666-1446. - 3(2020 Dec).

Human induced pluripotent stem cells technology in treatment resistant depression : novel strategies and opportunities to unravel ketamine's fast-acting antidepressant mechanisms / M. Marcatili, C. Sala, A. Dakanalis, F. Colmegna, A. D'Agostino, O. Gambini, B. Dell'Osso, B. Benatti, L. Conti, M. Clerici. - In: THERAPEUTIC ADVANCES IN PSYCHOPHARMACOLOGY. - ISSN 2045-1253. - 10(2020 Nov), pp. 204512532096833.1-204512532096833.10.