Bischetti Gian Battista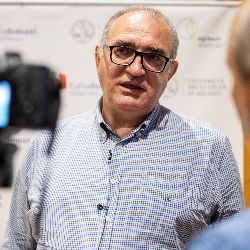 Full professor
SSD
AGR/08 - AGRICULTURAL HYDRAULICS AND WATERSHED PROTECTION
Competition sector
07/C1 - AGRICULTURAL, FOREST AND BIOSYTEMS ENGINEERING
Research fields and competencies
Teaching - Programme courses
Research
Publications
Towards More Sustainable Materials for Geo-Environmental Engineering: The Case of Geogrids / A. Cislaghi, P. Sala, G. Borgonovo, C. Gandolfi, G.B. Bischetti. - In: SUSTAINABILITY. - ISSN 2071-1050. - 13:5(2021 Mar 01), pp. 2585.1-2585.21. [10.3390/su13052585]

Effects of tree spacing and thinning on root reinforcement in mountain forests of the European Southern Alps / A. Cislaghi, E. Alterio, P. Fogliata, A. Rizzi, E. Lingua, G. Vacchiano, G.B. Bischetti, T. Sitzia. - In: FOREST ECOLOGY AND MANAGEMENT. - ISSN 0378-1127. - 482(2021 Feb 15), pp. 118873.1-118873.13.

Effects of plant roots on soil shear strength and shallow landslide proneness in an area of northern Italian Apennines / M. Bordoni, A. Cislaghi, A. Vercesi, G.B. Bischetti, C. Meisina. - In: BULLETIN OF ENGINEERING GEOLOGY AND THE ENVIRONMENT. - ISSN 1435-9529. - (2020 Apr 23). [Epub ahead of print]

Biodegradable Geosynthetics for Geotechnical and Geo-Environmental Engineering / A. CISLAGHI, P. SALA, G. BORGONOVO, C. GANDOLFI, G.B. BISCHETTI (LECTURE NOTES IN CIVIL ENGINEERING). - In: Innovative Biosystems Engineering for Sustainable Agriculture, Forestry and Food Production / [a cura di] A. Coppola, G.C. Di Renzo, G. Altieri, P. D'Antonio. - Prima edizione. - [s.l] : Springer, 2020 Mar. - ISBN 9783030392987. - pp. 49-57 (( convegno Italian Association of Agricultural Engineering (AIIA) tenutosi a Matera nel 2019.

Towards a probabilistic assessment of sediment yields in a mountainous area: the case study of Valle Camonica / G.B. Bischetti, P. Sala, P. Fogliata, E. Morlotti, A. Cislaghi. - In: GEOPHYSICAL RESEARCH ABSTRACTS. - ISSN 1607-7962. - (2020), pp. 1-1. ((Intervento presentato al convegno EGU nel 2020.