Maiorana Carlo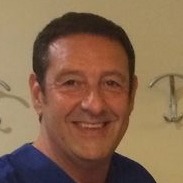 Full professor
SSD
MED/28 - ORAL DISEASES AND DENTISTRY
Competition sector
06/F1 - ORAL DISEASES AND DENTISTRY
Research fields and competencies
Publications
Effectiveness of dental implants placed into microvascular free flaps / F. Goker, A. Baj, A.R. Bolzoni, C. Maiorana, R. Pierpaolo, S. Taschieri, P. Beretta, G. Beltramini, G.A. Bruno, M. Del Fabbro. - In: ORAL DISEASES. - ISSN 1354-523X. - (2020). [Epub ahead of print]

Dental implant-based oral rehabilitation in patients reconstructed with free fibula flaps: Clinical study with a follow-up 3 to 6 years / F. Goker, A. Baj, A. Bolzoni, C. Maiorana, A. Giannì, M. Del Fabbro. - In: CLINICAL IMPLANT DENTISTRY AND RELATED RESEARCH. - ISSN 1523-0899. - (2020). [Epub ahead of print]

Nonalcoholic fatty liver disease prevalence in an Italian cohort of patients with hidradenitis suppurativa : a multi-center retrospective analysis / G. Damiani, S. Leone, K. Fajgenbaum, N.L. Bragazzi, A. Pacifico, R.R.Z. Conic, P.D.M. Pigatto, C. Maiorana, P. Poli, E. Berti, M.C. Pace, P. Malagoli, V. Bettoli, M. Fiore. - In: WORLD JOURNAL OF HEPATOLOGY. - ISSN 1948-5182. - 11:4(2019 Apr 27), pp. 391-401.

Effectiveness and compliance of an oscillating-rotating toothbrush in patients with dental implants: a randomized clinical trial / G. Allocca, D. Pudylyk, F. Signorino, G.B. Grossi, C. Maiorana. - In: INTERNATIONAL JOURNAL OF IMPLANT DENTISTRY. - ISSN 2198-4034. - 4(2018 Dec 10).

Guided bone regeneration and implant placement in association with a coronally positioned palatal sliding flap: a 17-year follow-up case report / C. Maiorana, A.S. Miglietta, J.M. Citriniti, P.P. Poli. ((Intervento presentato al convegno Simposio Nazionale Osteology : Successo a lungo termine: strumenti e strategie in terapia rigenerativa tenutosi a Turino nel 2018.