Pirola Carlo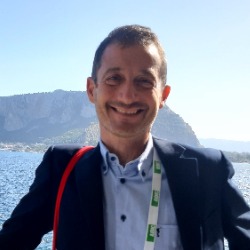 Associate Professor
SSD
ING-IND/25 - CHEMICAL PLANTS
Competition sector
09/D3 - CHEMICAL PLANTS AND TECHNOLOGIES
Research fields and competencies
Office
Pilot Plants Laboratory (Build # 7 of the Chemistry Departement)
Publications
Effect of Carbon Support, Capping Agent Amount, and Pd NPs Size for Bio-Adipic Acid Production from Muconic Acid and Sodium Muconate / S. Capelli, D. Motta, C. Evangelisti, N. Dimitratos, L. Prati, C. Pirola, A. Villa. - In: NANOMATERIALS. - ISSN 2079-4991. - 10:3(2020 Mar 11), pp. 505.1-505.18.

Nonlinear desorption activation energy from TPD curves : analysis of the influence of initial values for the regression procedure / C. Pirola, A. Di Michele. - In: CANADIAN JOURNAL OF CHEMICAL ENGINEERING. - ISSN 0008-4034. - (2020 Feb 03). [Epub ahead of print]

Mitigating Carbon Dioxide Impact of Industrial Steam Methane Reformers by Acid Gas to Syngas Technology: Technical and Environmental Feasibility / A. Bassani, D. Previtali, C. Pirola, G. Bozzano, S. Colombo, F. Manenti. - In: JOURNAL OF SUSTAINABLE DEVELOPMENT OF ENERGY, WATER AND ENVIRONMENT SYSTEMS. - ISSN 1848-9257. - 8:1(2020), pp. 71-87.

Experimental Characterization of Polymer Surfaces Subject to Corona Discharges in Controlled Atmospheres / A.R. Leon-Garzon, G. Dotelli, M. Tommasini, C.L. Bianchi, C. PIROLA, A. Villa, A. Lucotti, B. SACCHI, L. Barbieri. - In: POLYMERS. - ISSN 2073-4360. - 11:10(2019 Oct 01), pp. 1646.1-1646.17.

Ultrasound-enhanced photodegradation of Diclofenac Na / D. Meroni, C.L. Bianchi, C.F. Kait, D.C. Boffito, C. Pirola. ((Intervento presentato al 4. convegno Conference of the Asia-Oceania Sochemical Society tenutosi a Nanjing nel 2019.