Mando' Chiara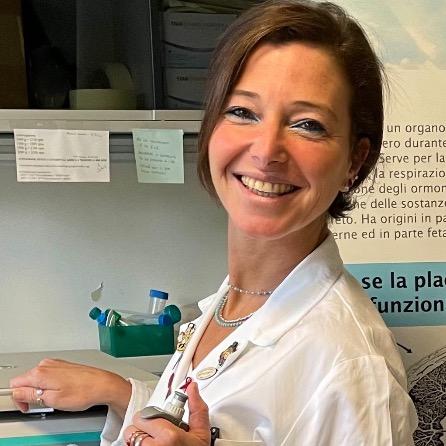 Associate Professor
SSD
MED/49 - FOOD AND DIETETIC SCIENCES
Competition sector
06/D2 - ENDOCRINOLOGY, NEPHROLOGY, FOOD AND WELLNESS SCIENCE
Research fields and competencies
Teaching - Programme courses
A.Y. 2020/2021
A.Y. 2019/2020
A.Y. 2018/2019
Research
Publications
Placental antioxidant defenses and autophagy-related genes in maternal obesity and gestational diabetes mellitus / C. Diceglie, G.M. Anelli, C. Martelli, A. Serati, A. Lo Dico, F. Lisso, F. Parisi, C. Novielli, R. Paleari, I. Cetin, L. Ottobrini, C. Mando'. - In: NUTRIENTS. - ISSN 2072-6643. - 13:4(2021 Apr), pp. 1303.1-1303.18. [10.3390/nu13041303]

The role of obesity and gestational diabetes on placental size and fetal oxygenation / C. Bianchi, E. Taricco, M. Cardellicchio, C. Mandò, M. Massari, M. Savasi Valeria, I. Cetin. - In: PLACENTA. - ISSN 0143-4004. - 103(2021 Jan 01), pp. 59-63.

Le macchine dell'energia: i mitocondri placentari / C. Mando'. ((Intervento presentato al convegno 95° Congresso Nazionale SIGO, 60° Congresso Nazionale AOGOI, 27° Congresso Nazionale AGUI, 3° Congresso Nazionale AGITE "La ginecologia in Italia e nel mondo nell'era post Covid" tenutosi a on line nel 2020.

Effects of α-lipoic acid and myo-inositol supplementation on the oocyte environment of infertile obese women : a preliminary study / C. Novielli, G.M. Anelli, F. Lisso, A. Marzorati, B. Parrilla, M. Oneta, V.M. Savasi, I. Cetin, C. Mandò. - In: REPRODUCTIVE BIOLOGY. - ISSN 1642-431X. - 20:4(2020 Dec), pp. 541-546.

Linee guida. Advisory Board Italiano sulla sindrome dell'ovaio policistico (PCOS): dalle osservazioni all'esperienze cliniche sull'uso del mioinositolo (MYO) e dell'acido alfa-lipoico (ALA) per migliorare i quadri della sindrome / E. Ferrazzi, P. Moghetti, F. Fruzzetti, A. Gambineri, A. Fulghesu, M. Street, R. Rago, I. Cetin, C. Mandò, N. Di Simone, A. Genazzani, R. Apa, V. De Leo. - In: MINERVA GINECOLOGICA. - ISSN 1827-1650. - 72:5(2020 Oct), pp. 239-243.