Bandi Claudio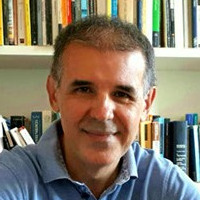 Full professor
SSD
BIO/19 - MICROBIOLOGY
Competition sector
05/I2 - MICROBIOLOGY
Research fields and competencies
Teaching - Programme courses
A.Y. 2019/2020
Postgraduate Schools - Medicine, Healthcare, Dental Medicine
A.y. 2018/2019
Postgraduate Schools - Medicine, Healthcare, Dental Medicine
Research
Publications
Morphology, ultrastructure, genomics, and phylogeny of Euplotes vanleeuwenhoeki sp. nov. and its ultra-reduced endosymbiont "Candidatus Pinguicoccus supinus" sp. nov / V. Serra, L. Gammuto, V. Nitla, M. Castelli, O. Lanzoni, D. Sassera, C. Bandi, B.V. Sandeep, F. Verni, L. Modeo, G. Petroni. - In: SCIENTIFIC REPORTS. - ISSN 2045-2322. - 10:1(2020 Dec 01).

Serological follow-up of SARS-CoV-2 asymptomatic subjects / G.P. Milani, L. Dioni, C. Favero, L. Cantone, C. Macchi, S. Delbue, M. Bonzini, E. Montomoli, V. Bollati, B. Albetti, C. Bandi, T. Bellini, M. Buscaglia, C. Cantarella, M. Carugno, S. Casartelli, S. D'Alessandro, F. De Chiara, I. Eberini, L. Ferrari, M. Ferraroni, L. Galastri, C. Galli, M. Hoxha, S. Iodice, C. La Vecchia, A. Manenti, I. Manini, S. Marchi, J. Mariani, E. Pariani, A.C. Pesatori, F. Rota, M. Ruscica, T. Schioppo, L. Tarantini, C.M. Trombetta, M. Vicenzi, G. Zanchetta. - In: SCIENTIFIC REPORTS. - ISSN 2045-2322. - 10:1(2020 Dec).

Microbiota in Clostridioides difficile-associated diarrhea: Comparison in recurrent and non-recurrent infections / A. Gazzola, S. Panelli, M. Corbella, C. Merla, F. Comandatore, A. De Silvestri, A. Piralla, V. Zuccaro, C. Bandi, P. Marone, P. Cambieri. - In: BIOMEDICINES. - ISSN 2227-9059. - 8:9(2020 Sep 07).

Inflammatory bowel diseases, the hygiene hypothesis and the other side of the microbiota: Parasites and fungi / S. Panelli, S. Epis, L. Cococcioni, M. Perini, M. Paroni, C. Bandi, L. Drago, G.V. Zuccotti. - In: PHARMACOLOGICAL RESEARCH. - ISSN 1043-6618. - 159(2020 Sep).

Fatal respiratory infection due to ST308 VIM-1-producing Pseudomonas aeruginosa in a lung transplant recipient : case report and review of the literature / M. Carugati, A. Piazza, A.M. Peri, L. Cariani, M. Brilli, D. Girelli, D. Di Carlo, A. Gramegna, M. Pappalettera, F. Comandatore, G. Grasselli, A.P. Cantù, M. Arghittu, A. Gori, C. Bandi, F. Blasi, A. Bandera. - In: BMC INFECTIOUS DISEASES. - ISSN 1471-2334. - 20:1(2020 Aug 26), pp. 635.1-635.7.