Bandi Claudio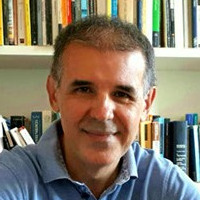 Full professor
SSD
BIO/19 - MICROBIOLOGY
Competition sector
05/I2 - MICROBIOLOGY
Research fields and competencies
Teaching - Programme courses
A.Y. 2019/2020
Postgraduate Schools - Medicine, Healthcare, Dental Medicine
A.Y. 2018/2019
Postgraduate Schools - Medicine, Healthcare, Dental Medicine
Research
Publications
Evidence for the spread of the alien species Aedes koreicus in the Lombardy region, Italy / A. Negri, I. Arnoldi, M. Brilli, C. Bandi, P. Gabrieli, S. Epis. - In: PARASITES & VECTORS. - ISSN 1756-3305. - 14:1(2021 Oct 14), pp. 534.1-534.6. [10.1186/s13071-021-05031-7]

Multi-Locus Melting Clustering (MLMC): a novel, fast and inexpensive approach to pathogen typing. Application in a year-long real time nosocomial surveillance program / M. Perini, A. Piazza, S. Papaleo, A. Alvaro, F. Vailati, S. Gaiarsa, F. Saluzzo, F. Gona, C. Farina, P. Marone, D. Maria Cirillo, A. Cavallero, C. Bandi, G.V. Zuccotti, F. Comandatore. ((Intervento presentato al 31. convegno ECCMID - European Congress of Clinical Microbiology & Infectious Diseases tenutosi a Online nel 2021.

Personality and cognitive profiles of animal-assisted intervention dogs and pet dogs in an unsolvable task / P. Piotti, M. Albertini, L.P. Trabucco, L. Ripari, C. Karagiannis, C. Bandi, F. Pirrone. - In: ANIMALS. - ISSN 2076-2615. - 11:7(2021 Jul), pp. 2144.1-2144.16. [10.3390/ani11072144]

Modeling the Life Cycle of the Intramitochondrial Bacterium "Candidatus Midichloria mitochondrii" Using Electron Microscopy Data / F. Comandatore, G. Radaelli, S. Montante, L. Sacchi, E. Clementi, S. Epis, A. Cafiso, V. Serra, M. Pajoro, D. Di Carlo, A. Maria Floriano, F. Stavru, C. Bandi, D. Sassera. - In: MBIO. - ISSN 2150-7511. - 12:3(2021 Jun). [10.1128/mBio.00574-21]

EBV DNA increase in COVID-19 patients with impaired lymphocyte subpopulation count / S. Paolucci, I. Cassaniti, F. Novazzi, L. Fiorina, A. Piralla, G. Comolli, R. Bruno, R. Maserati, R. Gulminetti, S. Novati, F. Mojoli, F. Baldanti, R. Bruno, M. Mondelli, E. Brunetti, A. Di Matteo, E. Seminari, L. Maiocchi, V. Zuccaro, L. Pagnucco, B. Mariani, S. Ludovisi, R. Lissandrin, A. Parisi, P. Sacchi, S.F.A. Patruno, G. Michelone, R. Gulminetti, D. Zanaboni, S. Novati, R. Maserati, P. Orsolini, M. Vecchia, M. Sciarra, E. Asperges, M. Colaneri, A. Di Filippo, M. Sambo, S. Biscarini, M. Lupi, S. Roda, T.C. Pieri, I. Gallazzi, M. Sachs, P. Valsecchi, S. Perlini, C. Alfano, M. Bonzano, F. Briganti, G. Crescenzi, A.G. Falchi, R. Guarnone, B. Guglielmana, E. Maggi, I. Martino, P. Pettenazza, S. Pioli di Marco, F. Quaglia, A. Sabena, F. Salinaro, F. Speciale, I. Zunino, M. De Lorenzo, G. Secco, L. Dimitry, G. Cappa, I. Maisak, B. Chiodi, M. Sciarrini, B. Barcella, F. Resta, L. Moroni, G. Vezzoni, L. Scattaglia, E. Boscolo, C. Zattera, M.F. Tassi, V. Capozza, D. Vignaroli, M. Bazzini, G. Iotti, F. Mojoli, M. Belliato, L. Perotti, S. Mongodi, G. Tavazzi, G. Marseglia, A. Licari, I. Brambilla, D. Barbarini, A. Bruno, P. Cambieri, G. Campanini, C. Cavanna, G. Comolli, M. Corbella, R. Daturi, M. Furione, P. Marone, E. Monzillo, S. Paolucci, M. Parea, E. Percivalle, A. Piralla, F. Rovida, A. Sarasini, M. Zavattoni, G. Adzasehoun, M. Ardizzone, L. Bellotti, V. Brunco, E. Cabano, G. Casali, L. Capella, D. Devitis, L. Dossena, G. Frisco, G. Garbagnoli, F. Gardellini, A. Girello, A. Guerrizio, V. Landini, C. Lucchelli, V. Maliardi, P. Piemontese, S. Pezzaia, M. Premoli, C. Rebuffa, C. Zanello, J. Bagnarino, F. Bergami, A. Bonetti, G. Caneva, I. Cassaniti, A. Corcione, R. Di Martino, A. Di Napoli, A. Ferrari, G. Ferrari, L. Fiorina, A. Gallone, F. Giardina, A. Girardi, A. Mercato, C. Merla, F. Novazzi, G. Ratano, B. Rossi, G. Saveriaempillai, I.M. Sciabica, M. Tallarita, E. Vecchio Nepita, J. Vitali, A. Cerino, S. Varchetta, B. Oliviero, S. Mantovani, D. Mele, M. Calvi, M. Tizzoni, C. Nicora, A. Triarico, V. Petronella, C. Marena, A. Muzzi, P. Lago, S. Cutti, V. Novelli, F. Comandatore, G. BatistiBiffignandi, S. Gaiarsa, M. Rettani, C. Bandi. - In: INTERNATIONAL JOURNAL OF INFECTIOUS DISEASES. - ISSN 1201-9712. - 104(2021 Mar), pp. 315-319.