Battaglia Cristina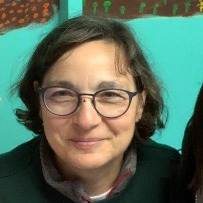 Associate Professor
SSD
BIO/10 - BIOCHEMISTRY
Competition sector
05/E1 - GENERAL BIOCHEMISTRY
Research fields and competencies
Publications
Nuclear receptor ligands induce TREM-1 expression on dendritic cells: analysis of their role in tumors / R. Fontana, L. Raccosta, L. Rovati, K.R. Steffensen, A. Paniccia, T. Jakobsson, G. Melloni, A. Bandiera, G. Mangili, A. Bergamini, D. Maggioni, C. Doglioni, R. Crocchiolo, M. Cella, M. Mattioli, C. Battaglia, M. Colonna, V. Russo. - In: ONCOIMMUNOLOGY. - ISSN 2162-4011. - 8:3(2019 Dec 18), pp. 1554967.1-1554967.17.

Candidate Genes and MiRNAs Linked to the Inverse Relationship Between Cancer and Alzheimer's Disease: Insights From Data Mining and Enrichment Analysis / C. Battaglia, M. Venturin, A. Sojic, N. Jesuthasan, A. Orro, R. Spinelli, M. Musicco, G. De Bellis, F. Adorni. - In: FRONTIERS IN GENETICS. - ISSN 1664-8021. - 10(2019 Sep 24), pp. 846.1-846.14.

Emerging Role of Genetic Alterations Affecting Exosome Biology in Neurodegenerative Diseases / P. Riva, C. Battaglia, M. Venturin. - In: INTERNATIONAL JOURNAL OF MOLECULAR SCIENCES. - ISSN 1422-0067. - 20:17(2019 Sep).

Transcriptional profiling of human bronchial epithelial cell BEAS-2B exposed to diesel and biomass ultrafine particles / A. Grilli, R. Bengalli, E. Longhin, L. Capasso, M.C. Proverbio, M. Forcato, S. Bicciato, M. Gualtieri, C. Battaglia, M. Camatini. - In: BMC GENOMICS. - ISSN 1471-2164. - 19(2018 Apr 27), pp. 302.1-302.15.

The glucose and lipid metabolism reprogramming is gradedependent in clear cell renal cell carcinoma primary cultures and is targetable to modulate cell viability and proliferation / B. Cristina, M. Chiara, B. Silvia, D.S. Vitalba, S. Francesco, T. Barbara, D.M. Sofia, B. Giorgio, C. Ingrid, M. Eleonora, C. Battaglia, S. Guido, L. Giuseppe, W. Robert H., P. Roberto A.. - In: ONCOTARGET. - ISSN 1949-2553. - 8:69(2017 Dec 08), pp. 113502-113515.