Battaglia Cristina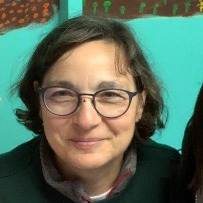 Associate Professor
SSD
BIO/10 - BIOCHEMISTRY
Competition sector
05/E1 - GENERAL BIOCHEMISTRY
Research fields and competencies
Office
Palazzo LITA, via Fratelli Cervi 93, Segrate
Teaching - Programme courses
A.Y. 2021/2022
A.Y. 2020/2021
A.Y. 2019/2020
A.Y. 2018/2019
Research
Publications
The Genome-Wide Impact of Nipblb Loss-of-Function on Zebrafish Gene Expression / M. Spreafico, E. Mangano, M. Mazzola, C. Consolandi, R. Bordoni, C. Battaglia, S. Bicciato, A. Marozzi, A.S. Pistocchi. - In: INTERNATIONAL JOURNAL OF MOLECULAR SCIENCES. - ISSN 1422-0067. - 21:24(2020 Dec).

HDAC8 : A Promising Therapeutic Target for Acute Myeloid Leukemia / M. Spreafico, A.M. Gruszka, D. Valli, M. Mazzola, G. Deflorian, A. Quinte, M.G. Totaro, C. Battaglia, M. Alcalay, A. Marozzi, A. Pistocchi. - In: FRONTIERS IN CELL AND DEVELOPMENTAL BIOLOGY. - ISSN 2296-634X. - 8(2020 Sep), pp. 844.1-844.12.

Expression of the CHI-linked S561F CDKAL1 variant affects the insulin processing and release in INS1E cells / A. Marku, A. Galli, E.S. Di Cairano, S. Ghislanzoni, M. Castagna, C. Consentino, C. Battaglia, C. Perego. - In: DIABETOLOGIA. - ISSN 0012-186X. - 63:1(2020 Aug 25), pp. 386.s191-386.s191. ((Intervento presentato al 56. convegno EASD Annual Meeting of the European Association for the Study of Diabetes: 21st - 25th September nel 2020.

Digenic inheritance of subclinical variants in Noonan Syndrome patients: an alternative pathogenic model? / L. Ferrari, E. Mangano, M.T. Bonati, I. Monterosso, D. Capitanio, F. Chiappori, I. Brambilla, C. Gelfi, C. Battaglia, R. Bordoni, P. Riva. - In: EUROPEAN JOURNAL OF HUMAN GENETICS. - ISSN 1018-4813. - 2020(2020 Jun). [Epub ahead of print]

Nuclear receptor ligands induce TREM-1 expression on dendritic cells: analysis of their role in tumors / R. Fontana, L. Raccosta, L. Rovati, K.R. Steffensen, A. Paniccia, T. Jakobsson, G. Melloni, A. Bandiera, G. Mangili, A. Bergamini, D. Maggioni, C. Doglioni, R. Crocchiolo, M. Cella, M. Mattioli, C. Battaglia, M. Colonna, V. Russo. - In: ONCOIMMUNOLOGY. - ISSN 2162-4011. - 8:3(2019 Dec 18), pp. 1554967.1-1554967.17.