Donetti Elena Bianca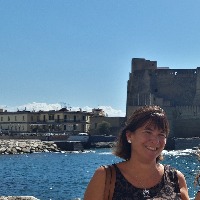 Tenured Associate Professor
SSD
BIO/16 - HUMAN ANATOMY
Competition sector
05/H1 - HUMAN ANATOMY
Research fields and competencies
Publications
Anatomia umana : Approccio integrato tra struttura e funzione / [a cura di] E. Donetti, M. Battistelli, A. Franchitto, R. Mancinelli. - [s.l] : EDRA, 2020. - ISBN 9788821452123.

3D skin model to investigate the early epidermal morphological psoriatic features / E. Donetti, G. Lombardo, F. Baruffaldi Preis, L. Cornaghi, L. Pescitelli, F. Prignano. - In: JOURNAL OF TRANSLATIONAL SCIENCE. - ISSN 2059-268X. - (2019 Nov 18). [Epub ahead of print]

Fenretinide treatment accelerates atherosclerosis development in apolipoprotein e-deficient mice in spite of beneficial metabolic effects / M. Busnelli, S. Manzini, F. Bonacina, A. Colombo, S. Soldati, S.S. Barbieri, P. Amadio, L. Sandrini, F. Arnaboldi, E. Donetti, R. Laaksonen, S. Paltrinieri, E. Scanziani, G. Chiesa. - In: GIORNALE ITALIANO DELL'ARTERIOSCLEROSI. - ISSN 2240-4821. - 10:4(2019 Nov), pp. S7-S7. ((Intervento presentato al 33. convegno Congresso nazionale della Società Italiana per lo Studio dell'Aterosclerosi (SISA) tenutosi a Roma nel 2019.

Study on the inflammasome NLRP3 and BLIMP-1/nlrp12 after keratinocyte exposure to contact allergens / V. Galbiati, L. Cornaghi, A. Papale, E. Donetti, M. Marinovich, E. Corsini. - In: TOXICOLOGY LETTERS. - ISSN 0378-4274. - 313(2019 Oct 01), pp. 130-136.

Effects of cytokines involved in a microenvironment mimicking atopic dermatitis in a well standardized three-dimensional model of normal human skin / S. Indino, L. Cornaghi, G. Lombardo, F.W. Baruffaldi Preis, F. Prignano, E. Donetti. ((Intervento presentato al 73. convegno Congresso Nazionale della Società Italiana di Anatomia ed Istologia (SIAI) tenutosi a Napoli nel 2019.