Dozio Elena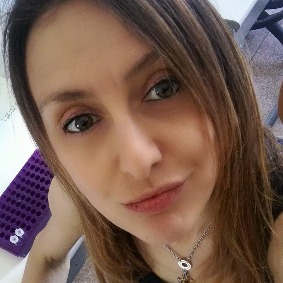 Fixed-term Research Fellow B
SSD
MED/05 - CLINICAL PATHOLOGY
Competition sector
06/A2 - EXPERIMENTAL MEDICINE, PATHOPHYSIOLOGY AND CLINICAL PATHOLOGY
Research fields and competencies
Teaching - Programme courses
A.Y. 2020/2021
A.Y. 2019/2020
A.Y. 2018/2019
Research
Publications
Glycated Albumin for Glycemic Control in T2DM Population : A Multi-Dimensional Evaluation / L. Ferrario, F. Schettini, A. Avogaro, C. Bellia, F. Bertuzzi, G. Bonetti, A. Ceriello, M. Ciaccio, M. Corsi Romanelli, E. Dozio, L. Falqui, A. Girelli, A. Nicolucci, G. Perseghin, M. Plebani, U. Valentini, M. Zaninotto, S. Castaldi, E. Foglia. - In: CLINICOECONOMICS AND OUTCOMES RESEARCH. - ISSN 1178-6981. - 13(2021 May), pp. 453-464.

Maternal exposure to air pollutants, PCSK9 levels, fetal growth and gestational age – An Italian cohort / C. Macchi, S. Iodice, N. Persico, L. Ferrari, L. Cantone, M.F. Greco, B. Ischia, E. Dozio, A. Corsini, C.R. Sirtori, M. Ruscica, V. Bollati. - In: ENVIRONMENT INTERNATIONAL. - ISSN 0160-4120. - 149(2021 Apr).

Sarcopenia in chronic kidney disease : Focus on advanced glycation end products as mediators and markers of oxidative stress / E. Dozio, S. Vettoretti, G. Lungarella, P. Messa, M.M. Corsi Romanelli. - In: BIOMEDICINES. - ISSN 2227-9059. - 9:4(2021), pp. 405.1-405.15.

Intra-erythrocytes magnesium deficiency could reflect cognitive impairment status due to vascular disease: a pilot study / C. Sitzia, M. Sterlicchio, C. Crapanzano, E. Dozio, E. Vianello, M.M. Corsi Romanelli. - In: JOURNAL OF TRANSLATIONAL MEDICINE. - ISSN 1479-5876. - 8:1(2020 Dec).

Osteopontin : The Molecular Bridge between Fat and Cardiac-Renal Disorders / E. Vianello, M. Kalousová, E. Dozio, L. Tacchini, T. Zima, M.M. Corsi Romanelli. - In: INTERNATIONAL JOURNAL OF MOLECULAR SCIENCES. - ISSN 1422-0067. - 21:15(2020 Aug 04), pp. 5568.1-5568.13.