Di Marco Fabiano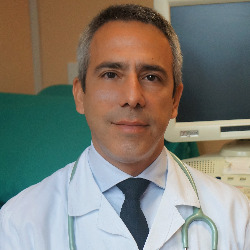 Associate Professor
SSD
MED/10 - RESPIRATORY DISEASES
Competition sector
06/D1 - CARDIOVASCULAR AND RESPIRATORY DISEASES
Research fields and competencies
Specialisation School Director
Publications
Papa Giovanni XXIII Bergamo Hospital at the time of the COVID-19 outbreak : Letter from the warfront… / S. Buoro, F. Di Marco, M. Rizzi, F. Fabretti, F.L. Lorini, S. Cesa, S. Fagiuoli. - In: INTERNATIONAL JOURNAL OF LABORATORY HEMATOLOGY. - ISSN 1751-5521. - 42:suppl. 1(2020 Jun), pp. 8-10.

The role of phenotype on ventilation and exercise capacity in patients affected by COPD : a retrospective study / F. Di Marco, S. Centanni, S. Carugo, P. Santus, S. Terraneo, B. Vigo, P. Lombardo, S. Comandini, M. Mondoni, R.F. Rinaldo. - In: MULTIDISCIPLINARY RESPIRATORY MEDICINE. - ISSN 1828-695X. - 15(2020 Feb), pp. 476.1-476.7.

Balancing evidence and frontline experience in the early phases of the COVID-19 pandemic: current position of the Italian Society of anti-infective therapy (SITA) and the Italian Society of Pulmonology (SIP) / M. Bassetti, D.R. Giacobbe, S. Aliberti, E. Barisione, S. Centanni, F.G. De Rosa, F. Di Marco, A. Gori, G. Granata, M. Mikulska, N. Petrosillo, L. Richeldi, P. Santus, C. Tascini, A. Vena, P. Viale, F. Blasi. - In: CLINICAL MICROBIOLOGY AND INFECTION. - ISSN 1198-743X. - (2020). [Epub ahead of print]

What drives inhaler prescription for asthma patients? Results from a real-life retrospective analysis / F. Lavorini, A. Bianco, F. Blasi, F. Braido, A.G. Corsico, F. Di Marco, A. Gentile, P.L. Paggiaro, V. Pegoraro, G. Pelaia, P. Rogliani, P. Santus, N. Scichilone, A. Soldi, G.W. Canonica. - In: RESPIRATORY MEDICINE. - ISSN 0954-6111. - 166(2020), pp. 105937.1-105937.7.

Impact of ICS/LABA and LABA/LAMA FDCs on functional and clinical outcomes in COPD : A network meta-analysis / L. Calzetta, F. Di Marco, F. Blasi, M. Cazzola, S. Centanni, C. Micheletto, A. Rossi, P. Rogliani. - In: PULMONARY PHARMACOLOGY & THERAPEUTICS. - ISSN 1094-5539. - 59(2019 Dec), pp. 101855.1-101855.10.