Bonacina Fabrizia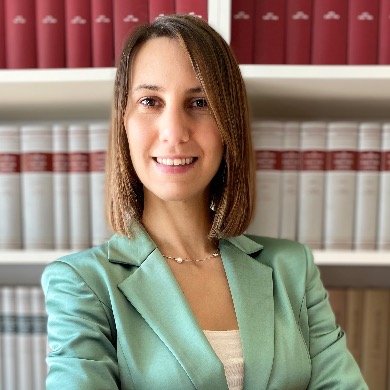 Fixed-term Research Fellow B
SSD
BIO/14 - PHARMACOLOGY
Competition sector
05/G1 - PHARMACOLOGY, CLINICAL PHARMACOLOGY AND PHARMACOGNOSY
Research fields and competencies
Teaching - Programme courses
Research
Publications
PCSK9 deficiency rewires heart metabolism and drives heart failure with preserved ejection fraction / L. Da Dalt, L. Castiglioni, A. Baragetti, M. Audano, M. Svecla, F. Bonacina, S. Pedretti, P. Uboldi, P. Benzoni, F. Giannetti, A. Barbuti, F. Pellegatta, S. Indino, E. Donetti, L. Sironi, N. Mitro, A.L. Catapano, G.D. Norata. - In: EUROPEAN HEART JOURNAL. - ISSN 0195-668X. - 42:32(2021 Aug 21), pp. 3078-3090. [10.1093/eurheartj/ehab431]

Purification and in vitro evaluation of an anti-HER2 affibody-2 monomethyl auristatin E conjugate in HER2-positive cancer cells / I. Damiani, S. Castiglioni, A. Sochaj-Gregorczyk, F. Bonacina, I. Colombo, V. Rusconi, J. Otlewski, A. Corsini, S. Bellosta. - In: BIOLOGY. - ISSN 2079-7737. - 10:8(2021 Aug), pp. 758.1-758.20. [10.3390/biology10080758]

Adoptive transfer of CX3CR1 transduced-T regulatory cells improves homing to the atherosclerotic plaques and dampens atherosclerosis progression / F. Bonacina, E. Martini, M. Svecla, J. Nour, M. Cremonesi, G. Beretta, A. Moregola, F. Pellegatta, V. Zampoleri, A.L. Catapano, M. Kallikourdis, G.D. Norata. - In: CARDIOVASCULAR RESEARCH. - ISSN 0008-6363. - 117:9(2021 Aug 01), pp. 2069-2082. [10.1093/cvr/cvaa264]

HDL in Immune-Inflammatory Responses: Implications beyond Cardiovascular Diseases / F. Bonacina, A. Pirillo, A.L. Catapano, G.D. Norata. - In: CELLS. - ISSN 2073-4409. - 10:5(2021 May), pp. 1061.1-1061.17. [10.3390/cells10051061]

Caloric Restriction Promotes Immunometabolic Reprogramming Leading to Protection from Tuberculosis / C. Palma, C. La Rocca, V. Gigantino, G. Aquino, G. Piccaro, D. Di Silvestre, F. Brambilla, R. Rossi, F. Bonacina, M.T. Lepore, M. Audano, N. Mitro, G. Botti, S. Bruzzaniti, C. Fusco, C. Procaccini, V. De Rosa, M. Galgani, C. Alviggi, A. Puca, F. Grassi, T. Rezzonico-Jost, G.D. Norata, P. Mauri, M.G. Netea, P. de Candia, G. Matarese. - In: CELL METABOLISM. - ISSN 1550-4131. - 33:2(2021 Feb 02), pp. 300-318.e12.