Pregliasco Fabrizio Ernesto
Pregliasco Fabrizio Ernesto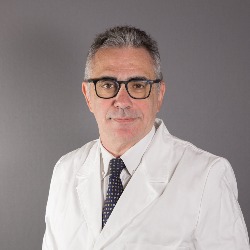 Researcher
SSD
MED/42 - HYGIENE AND PUBLIC HEALTH
Competition sector
06/M1 - HYGIENE, PUBLIC HEALTH, NURSING AND MEDICAL STATISTICS
Research fields and competencies
Teaching - Programme courses
A.Y. 2020/2021
A.Y. 2019/2020
A.y. 2018/2019
Research
Publications
Protective Effects of Lactoferrin against SARS-CoV-2 Infection In Vitro / C. Salaris, M. Scarpa, M. Elli, A. Bertolini, S. Guglielmetti, F. Pregliasco, C. Blandizzi, P. Brun, I. Castagliuolo. - In: NUTRIENTS. - ISSN 2072-6643. - 13:2(2021 Feb), pp. 328.1-328.12.

The British variant of the new coronavirus-19 (Sars-Cov-2) should not create a vaccine problem / P. Conti, A. Caraffa, C.E. Gallenga, S.K. Kritas, I. Frydas, A. Younes, P. Di Emidio, G. Tetè, F. Pregliasco, G. Ronconi. - In: JOURNAL OF BIOLOGICAL REGULATORS & HOMEOSTATIC AGENTS. - ISSN 0393-974X. - 35:1(2021). [Epub ahead of print]

Linee Guida e raccomandazioni per l'emergenza sanitaria da SARS-CoV-2. Organizzazione dell'attività assistenziale oculistica per evitare il contatto tra soggetti sani e soggetti positivi asintomatici contagiosi [Guidelines and recommendations for the SARS-CoV-2 health emergency. Organization of ophthalmic consultations to avoid contact between healthy and asymptomatic contagious positive subjects] / M. Piovella, S. Vergani, C. Signorelli, F. Pregliasco, L. Mele, E. Campos, M. Buscemi, P. Troiano. - In: ABOUTOPEN. - ISSN 2465-2628. - 7:1(2020 Dec), pp. 76-79.

Preliminary analysis of relationships between covid19 and climate, morphology, and urbanization in the lombardy region (Northern Italy) / M. Fazzini, C. Baresi, C. Bisci, C. Bna, A. Cecili, A. Giuliacci, S. Illuminati, F. Pregliasco, E. Miccadei. - In: INTERNATIONAL JOURNAL OF ENVIRONMENTAL RESEARCH AND PUBLIC HEALTH. - ISSN 1661-7827. - 17:19(2020 Oct 01), pp. 6955.1-6955.13.

Remarks on the air recirculation in HVAC systems during the SARS-CoV-2 outbreak: the case of all-air ducted plants / A. Cavallini, F. Busato, F. Pregliasco. - In: AICARR JOURNAL. - ISSN 2038-2723. - 11(2020 Sep), pp. 50-55.