Rossi Filippo Maria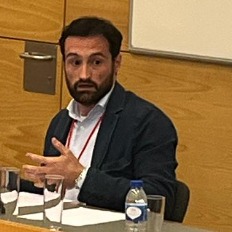 Fixed-term Research Fellow B
SSD
IUS/19 - HISTORY OF MEDIEVAL AND MODERN LAW
Competition sector
12/H2 - HISTORY OF MEDIEVAL AND MODERN LAW
Research fields and competencies
Teaching - Programme courses
Research
Publications
Un 'punto di non ritorno' : Lavoro minorile, sfruttamento e violenza durante l'età liberale / F. Rossi (CENTRO DI STUDI SULLA GIUSTIZIA / FACOLTÀ DI GIURISPRUDENZA DELL'UNIVERSITÀ DEGLI STUDI DI MILANO). - In: Tra odio e (dis)amore : Violenza di genere e violenza sui minori dalla prospettiva storica all'età digitale / [a cura di] A. Santangelo Cordani, G. Ziccardi. - Prima edizione. - [s.l] : Giuffrè Francis Lefebvre, 2020 Oct. - ISBN 9788828822547. - pp. 169-216

"Il morbo crudele" : opinione pubblica e diritto dell'emergenza in Italia di fronte all'influenza "Spagnola" = "The crudel disease" : public opinion and emergency law in Italy during the spanish flu / F. Rossi. - In: ITALIAN REVIEW OF LEGAL HISTORY. - ISSN 2464-8914. - 6:12(2020), pp. 293-337.

Littératures populaires du droit. Le droit à la portée de tous, edited by Laetitia Guerlain and Nader Hakim, 2019, Issy-les-Moulineaux, LGDJ, 208pp., 42 € (pbk), ISBN 978-2275057724 [Recensione] / F. Rossi. - In: COMPARATIVE LEGAL HISTORY. - ISSN 2049-6788. - 8:1(2020), pp. 66-70.

'Depurare' e 'selezionare' le correnti migratorie : il progetto argentino di Ley Nacional del trabajo (1904) e i lavoratori stranieri / F. Rossi. - In: HISTORIA ET IUS. - ISSN 2279-7416. - 15(2019 Jun), pp. 16.1-16.32.

Un nuovo modo di sciogliere i contratti bilaterali : Augusto Teixeira de Freitas e la circolazione dei modelli tra Europa e America Latina nel XIX secolo = A new way of terminating bilateral contracts. Augusto Teixeira de Freitas and legal models between Europe and Latin America during the 19th Century / F. Rossi. - In: REVISTA DA FACULDADE DE DIREITO - UNIVERSIDADE FEDERAL DE MINAS GERAIS. - ISSN 0304-2340. - 74(2019), pp. 185-231.