Blasi Francesco Bruno Arturo
Blasi Francesco Bruno Arturo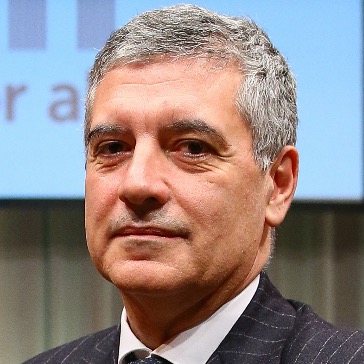 Full professor
SSD
MED/10 - RESPIRATORY DISEASES
Competition sector
06/D1 - CARDIOVASCULAR AND RESPIRATORY DISEASES
Research fields and competencies
Teaching - Programme courses
A.Y. 2020/2021
A.Y. 2019/2020
A.Y. 2018/2019
Research
Publications
T2-High Endotype and Response to Biological Treatments in Patients with Bronchiectasis / M. Oriano, A. Gramegna, F. Amati, A. D'Adda, M. Gaffuri, M. Contoli, F. Bindo, E. Simonetta, C. Di Francesco, M. Santambrogio, G. Sotgiu, F. Blasi, S. Aliberti. - In: BIOMEDICINES. - ISSN 2227-9059. - 9:7(2021 Jul), pp. 772.1-772.12. [10.3390/biomedicines9070772]

Aspergillus-related diseases in a cohort of patients with severe asthma : A SANI single-center report / P. Solidoro, S. Nicola, I. Ridolfi, C. Bucca, E. Heffler, D. Bagnasco, G.W. Canonica, F. Blasi, P. Paggiaro, G. Rolla, L. Brussino. - In: JOURNAL OF ALLERGY AND CLINICAL IMMUNOLOGY. IN PRACTICE. - ISSN 2213-2198. - 9:7(2021 Jul), pp. 2920-2922.e22. [10.1016/j.jaip.2021.04.011]

Response / M. Retucci, S. Aliberti, E. Privitera, F. Blasi. - In: CHEST. - ISSN 0012-3692. - 159:6(2021 Jun), pp. 2507-2508.

Overweight and obesity in adults with cystic fibrosis : An Italian multicenter cohort study / A. Gramegna, S. Aliberti, M. Contarini, D. Savi, G. Sotgiu, F. Majo, L. Saderi, V. Lucidi, F. Amati, M. Pappalettera, P. Palange, F. Blasi. - In: JOURNAL OF CYSTIC FIBROSIS. - ISSN 1569-1993. - (2021 May 27). [Epub ahead of print]

Effects of bilateral lung transplantation on cardiac autonomic modulation and cardiorespiratory coupling : a prospective study / E. Tobaldini, G.D. Rodrigues, G. Mantoan, A. Monti, G.C. Zelati, L. Furlan, P. Tarsia, L.C. Morlacchi, V. Rossetti, I. Righi, L. Rosso, M. Nosotti, P.P.S. Soares, N. Montano, S. Aliberti, F. Blasi. - In: RESPIRATORY RESEARCH. - ISSN 1465-993X. - 22:1(2021 May 21), pp. 156.1-156.10.