Molinari Francesco Enzo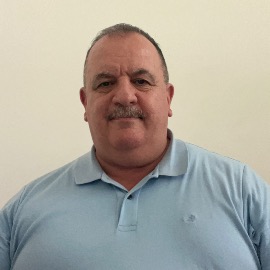 Full professor
SSD
CHIM/11 - CHEMISTRY AND BIOTECHNOLOGY OF FERMENTATION
Competition sector
03/D1 - MEDICINAL, TOXICOLOGICAL AND NUTRITIONAL CHEMISTRY AND APPLIED TECHNOLOGIES
Research fields and competencies
Office
via mangiagalli 25, DiSTAM buidling, third floor
Teaching - Programme courses
Research
Publications
Efficient chemo-enzymatic flow synthesis of high value amides and esters / F. Annunziata, M.L. Contente, D. Betti, C. Pinna, F. Molinari, L. Tamborini, A. Pinto. - In: CATALYSTS. - ISSN 2073-4344. - 10:8(2020 Aug), pp. 939.1-939.8.

Lipase mediated enzymatic kinetic resolution of phenylethyl halohydrins acetates: A case of study and rationalization / T.d.S. Fonseca, K.B. Vega, M.R. da Silva, M.d.C.F. de Oliveira, T.L.G. de Lemos, M.L. Contente, F. Molinari, M. Cespugli, S. Fortuna, L. Gardossi, M.C. de Mattos. - In: MOLECULAR CATALYSIS. - ISSN 2468-8231. - 485(2020 Apr).

Let's stick together for continuous flow biocatalysis / M.L. Contente, F. Molinari. - In: NATURE CATALYSIS. - ISSN 2520-1158. - 2:11(2019 Nov), pp. 951-952.

Efficient Enzymatic Preparation of Flavor Esters in Water / I.C. Perdomo, S. Gianolio, A. Pinto, D. Romano, M.L. Contente, F. Paradisi, F. Molinari. - In: JOURNAL OF AGRICULTURAL AND FOOD CHEMISTRY. - ISSN 0021-8561. - 67:23(2019 Jun 12), pp. 6517-6522.

Marine microorganisms for biocatalysis : selective hydrolysis of nitriles with a salt-resistant strain of meyerozyma guilliermondii / SERRA IMMACOLATA, C. Capusoni, F. Molinari, MUSSO LOANA, L. Pellegrino, COMPAGNO CONCETTA MARIA. - In: MARINE BIOTECHNOLOGY. - ISSN 1436-2228. - 21:2(2019 Apr), pp. 229-239.