Colo' Gianluca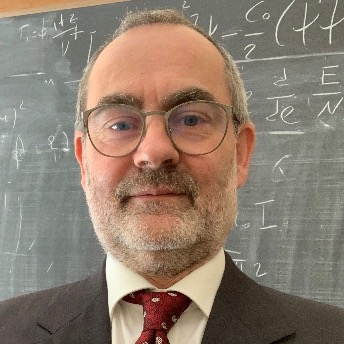 Full professor
SSD
FIS/04 - NUCLEAR AND SUBNUCLEAR PHYSICS
Competition sector
02/A2 - THEORETICAL PHYSICS OF FUNDAMENTAL INTERACTIONS
Research fields and competencies
Publications
Spin-dipole nuclear matrix element for the double beta decay of 76Ge by the (3He, t) charge-exchange reaction / H. Akimune, H. Ejiri, F. Hattori, C. Agodi, M. Alanssari, F. Cappuzzello, D. Carbone, M. Cavallaro, G. Colo, F. Diel, C.A. Douma, D. Frekers, H. Fujita, Y. Fujita, M. Fujiwara, G. Gey, M.N. Harakeh, K. Hatanaka, K. Heguri, M. Holl, A. Inoue, N. Kalantar-Nayestanaki, Y.F. Niu, P. Puppe, P.C. Ries, A. Tamii, V. Werner, K. Zuber. - In: JOURNAL OF PHYSICS. G, NUCLEAR AND PARTICLE PHYSICS. - ISSN 0954-3899. - 47:5(2020 May).

First step in the nuclear inverse Kohn-Sham problem: From densities to potentials / G. Accorto, P. Brandolini, F. Marino, A. Porro, A. Scalesi, G. Colo, X. Roca-Maza, E. Vigezzi. - In: PHYSICAL REVIEW C. - ISSN 2469-9985. - 101:2(2020 Feb 28).

Double charge-exchange phonon states / X. Roca-Maza, H. Sagawa, G. Colo. - In: PHYSICAL REVIEW C. - ISSN 2469-9985. - 101:1(2020 Jan 23).

Nuclear density functional theory / G. Colo. - In: ADVANCES IN PHYSICS: X. - ISSN 2374-6149. - 5:1(2020).

Nuclear excitations within microscopic EDF approaches : pairing and temperature effects on the dipole response / E. Yuksel, G. Colo, E. Khan, Y.F. Niu. - In: THE EUROPEAN PHYSICAL JOURNAL. A, HADRONS AND NUCLEI. - ISSN 1434-6001. - 55:12(2019 Dec), pp. 230.1-230.10.