Lodi Giovanni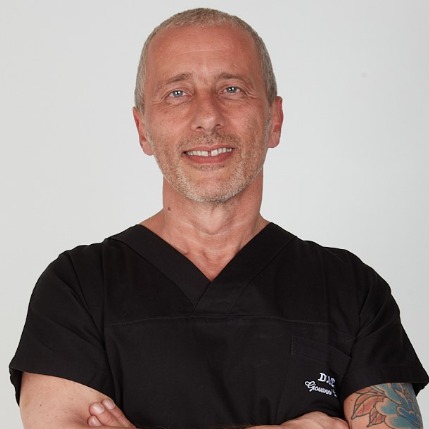 Associate Professor
SSD
MED/28 - ORAL DISEASES AND DENTISTRY
Competition sector
06/F1 - ORAL DISEASES AND DENTISTRY
Research fields and competencies
Teaching - Programme courses
A.Y. 2020/2021
A.Y. 2019/2020
A.Y. 2018/2019
Research
Publications
Follow-up del carcinoma orale: Rischio di recidiva, alimentazione, logopedia e fisioterapia = Follow-up in oral cancer: recurrence risk, nutrition, speech therapy and physiotherapy / N. Lombardi, G. Sacilotto, M. Iriti, S. Vitalini, S. Cupello, A.A. Rezzonico, G. Lodi. - In: DENTAL CADMOS. - ISSN 0011-8524. - 89:4(2021 Apr 01), pp. 2-21. [10.19256/d.cadmos.04.2021.11]

Comunicare cattive notizie in odontoiatria / S. Poli, D. Sorrentino, G. Lodi, E. Vegni. - In: DENTAL CADMOS. - ISSN 0011-8524. - 89:1(2021 Feb), pp. 18-27.

A randomized controlled trial on efficacy of surgical excision of nondysplastic leukoplakia to prevent oral cancer / P.G. Arduino, G. Lodi, M. Cabras, A. Macciotta, A. Gambino, D. Conrotto, D. Karimi, G.E. El Haddad, M. Carbone, R. Broccoletti. - In: CANCER PREVENTION RESEARCH. - ISSN 1940-6207. - 14:2(2021 Feb), pp. 275-283. [10.1158/1940-6207.CAPR-20-0234]

Oral potentially malignant disorders: A consensus report from an international seminar on nomenclature and classification, convened by the WHO Collaborating Centre for Oral Cancer / S. Warnakulasuriya, O. Kujan, J.M. Aguirre-Urizar, J.V. Bagan, M.A. Gonzalez-Moles, A.R. Kerr, G. Lodi, F.W. Mello, L. Monteiro, G.R. Ogden, P. Sloan, N.W. Johnson. - In: ORAL DISEASES. - ISSN 1354-523X. - (2021). [Epub ahead of print]

Epidemiology and risk factors / G. Lodi, M. Tarozzi, E. Baruzzi, D. Costa, R. Franchini, F. D'amore, A. Carrassi, N. Lombardi. - In: DENTAL CADMOS. - ISSN 0011-8524. - 89:1(2021 Jan), pp. 1-18.