Mauri Giovanni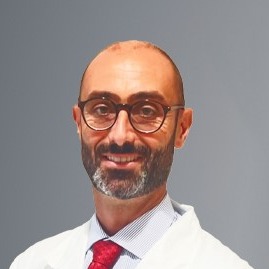 Fixed-term Research Fellow A
SSD
MED/36 - IMAGING AND RADIOTHERAPY
Competition sector
06/I1 - IMAGING, RADIOTHERAPY AND NEURORADIOLOGY
Research fields and competencies
Teaching - Programme courses
A.Y. 2019/2020
Postgraduate Schools - Medicine, Healthcare, Dental Medicine
A.Y. 2018/2019
Postgraduate Schools - Medicine, Healthcare, Dental Medicine
Research
Publications
Technical Feasibility of Electromagnetic US/CT Fusion Imaging and Virtual Navigation in the Guidance of Spine Biopsies / G. Mauri, S. Gitto, L.C. Pescatori, D. Albano, C. Messina, L.M. Sconfienza. - In: ULTRASCHALL IN DER MEDIZIN. - ISSN 0172-4614. - (2020 Aug 12). [Epub ahead of print]

Letter to the Editor: "Active Surveillance in Papillary Thyroid Microcarcinomas is Feasible and Safe: Experience at a Single Italian Center" / G. Mauri, G. Giugliano, M.C. Mariani, L. Sconfienza. - In: THE JOURNAL OF CLINICAL ENDOCRINOLOGY & METABOLISM. - ISSN 1945-7197. - 105:7(2020 Jul 01).

Biodegradable biliary stents: is it time for a larger application in patients with benign biliary strictures? / G. Mauri, L. Pescatori, L.M. Sconfienza. - In: EUROPEAN JOURNAL OF RADIOLOGY. - ISSN 0720-048X. - 127(2020 Jun).

Reproducibility of Ablated Volume Measurement Is Higher with Contrast-Enhanced Ultrasound than with B-Mode Ultrasound after Benign Thyroid Nodule Radiofrequency Ablation—A Preliminary Study / S. Schiaffino, F. Serpi, D. Rossi, V. Ferrara, C. Buonomenna, M. Alì, L. Monfardini, L.M. Sconfienza, G. Mauri. - In: JOURNAL OF CLINICAL MEDICINE. - ISSN 2077-0383. - 9:5(2020 May 16).

Use of the Thyroid Imaging Reporting and Data System (TIRADS) in clinical practice : an Italian survey / G. Mauri, S. Gitto, V. Cantisani, G. Vallone, C. Schiavone, E. Papini, L.M. Sconfienza. - In: ENDOCRINE. - ISSN 1355-008X. - 68:2(2020 May), pp. 329-335.