Onida Giovanni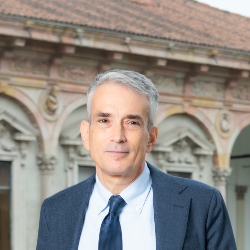 Full professor
SSD
FIS/03 - PHYSICS OF MATTER
Competition sector
02/B2 - THEORETICAL PHYSICS OF MATTER
Research fields and competencies
Wednesday afternoon, better by e-mail appointment
Office
Via Celoria 16, LITA Building, ground floor (Latitude 45.47606 N Longitude 9.23026 E)
Publications
Tailoring the magnetic ordering of the Cr4O5/Fe(001) surface via a controlled adsorption of C60 organic molecules / F. Orlando, G. Fratesi, G. Onida, S. Achilli. - (2020 Mar).

Scanning tunneling microscopy and Raman spectroscopy of polymeric sp-sp2 carbon atomic wires synthesized on the Au(111) surface / A. Rabia, F. Tumino, A. Milani, V. Russo, A. Li Bassi, S. Achilli, G. Fratesi, G. Onida, N. Manini, Q. Sun, W. Xu, C.S. Casari. - In: NANOSCALE. - ISSN 2040-3364. - 11:39(2019 Oct 10), pp. 18191-18200.

Spectroscopic Fingerprints of sp1 Hybridized C in Surface-Grown Molecular Assemblies / G. Fratesi, S. Achilli, N. Manini, G. Onida, A. Baby, A. Ravikumar, A. Ugolotti, G. Paolo Brivio, A. Milani, C. Spartaco Casari. ((Intervento presentato al 15. convegno European Conference on Molecular Electronics (ECME) tenutosi a Linkoping nel 2019.

Extensive stacking of DHI-like monomers as a model of out-of-plane complexity in eumelanin protomolecules : chemical and structural sensitivity of optical absorption spectra / E. Molteni, G. Cappellini, G. Onida, G. Mula. - In: CHEMICAL PHYSICS. - ISSN 0301-0104. - 524(2019 Aug), pp. 92-100.

MariX, an advanced MHz-class repetition rate X-ray source for linear regime time-resolved spectroscopy and photon scattering / L. Serafini, A. Bacci, A. Bellandi, M. Bertucci, M. Bolognesi, A. Bosotti, F. Broggi, R. Calandrino, F. Camera, F. Canella, S. Capra, P. Cardarelli, M. Carrara, K. Cassou, A. Castoldi, R. Castriconi, G.M. Cattaneo, S. Cialdi, A. Cianchi, N. Coluccelli, C. Curatolo, A. Del Vecchio, S. Di Mitri, I. Drebot, K. Dupraz, A. Esposito, L. Faillace, M. Ferrario, C. Fiorini, G. Galzerano, M. Gambaccini, G. Ghiringhelli, D. Giannotti, D. Giove, F. Groppi, C. Guazzoni, P. Laporta, S. Leoni, A. Loria, P. Mangili, A. Martens, T. Mazza, Z. Mazzotta, C. Meroni, G. Mettivier, P. Michelato, L. Monaco, S. Morante, M. Moretti Sala, D. Nutarelli, S. Olivares, G. Onida, M. Opromolla, C. Pagani, R. Paparella, M.G.A. Paris, B. Paroli, G. Paternò, C. Paulin, L. Perini, M. Petrarca, V. Petrillo, E. Pinotti, P. Piseri, M.A.C. Potenza, F. Prelz, A. Pullia, E. Puppin, F. Ragusa, R. Ramponi, M. Romè, M. Rossetti Conti, A.R. Rossi, L. Rossi, M. Ruijter, P. Russo, S. Samsam, A. Sarno, D. Sertore, M. Sorbi, B. Spataro, M. Statera, F. Stellato, E. Suerra, A. Tagliaferri, A. Taibi, V. Torri, G. Turchetti, C. Vaccarezza, R. Valdagni, A. Vanzulli, F. Zomer, G. Rossi. - In: NUCLEAR INSTRUMENTS & METHODS IN PHYSICS RESEARCH. SECTION A, ACCELERATORS, SPECTROMETERS, DETECTORS AND ASSOCIATED EQUIPMENT. - ISSN 0168-9002. - 930(2019 Jun 21), pp. 167-172.