Onida Giovanni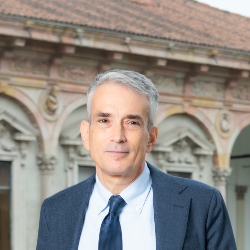 Full professor
SSD
FIS/03 - PHYSICS OF MATTER
Competition sector
02/B2 - THEORETICAL PHYSICS OF MATTER
Research fields and competencies
Wednesday afternoon, better by e-mail appointment
Office
Via Celoria 16, LITA Building, ground floor (Latitude 45.47606 N Longitude 9.23026 E)
Teaching - Programme courses
A.Y. 2021/2022
A.Y. 2020/2021
A.Y. 2019/2020
A.Y. 2018/2019
Research
Publications
Tailoring the magnetic ordering of the Cr4O5/Fe(001) surface via a controlled adsorption of C60 organic molecules / F. Orlando, G. Fratesi, G. Onida, S. Achilli. - In: PHYSICAL CHEMISTRY CHEMICAL PHYSICS. - ISSN 1463-9076. - 23(2021 Jan 05), pp. 7948-7954. [10.1039/D0CP05848C]

Ab Initio Spectroscopic Investigation of Pharmacologically Relevant Chiral Molecules: The Cases of Avibactam, Cephems, and Idelalisib as Benchmarks for Antibiotics and Anticancer Drugs / E. Molteni, G. Onida, M. Ceccarelli, G. Cappellini. - In: SYMMETRY. - ISSN 2073-8994. - 13:4(2021), pp. 601.1-601.12.

Position‐Controlled Functionalization of Vacancies in Silicon by Single‐Ion Implanted Germanium Atoms / S. Achilli, N.H. Le, G. Fratesi, N. Manini, G. Onida, M. Turchetti, G. Ferrari, T. Shinada, T. Tanii, E. Prati. - In: ADVANCED FUNCTIONAL MATERIALS. - ISSN 1616-301X. - 31:21(2021), pp. 2011175.1-2011175.11. [10.1002/adfm.202011175]

Structural, Electronic, and Vibrational Properties of a Two-Dimensional Graphdiyne-like Carbon Nanonetwork Synthesized on Au(111): Implications for the Engineering of sp-sp2 Carbon Nanostructures / A. Rabia, F. Tumino, A. Milani, V. Russo, A.L. Bassi, N. Bassi, A. Lucotti, S. Achilli, G. Fratesi, N. Manini, G. Onida, Q. Sun, W. Xu, C.S. Casari. - In: ACS APPLIED NANO MATERIALS. - ISSN 2574-0970. - 3:12(2020 Dec 04), pp. 12178-12187. [10.1021/acsanm.0c02665]

Eumelanin Adsorption on Silicon: Optical Properties of Si(001)-Adsorbed Eumelanin Tetrameric Protomolecules / E. Molteni, G. Cappellini, R. Cardia, G. Onida, G. Mula. - In: JOURNAL OF PHYSICAL CHEMISTRY. C. - ISSN 1932-7447. - 124:17(2020 Apr), pp. 9376-9384.