Diolaiuti Guglielmina Adele
Diolaiuti Guglielmina Adele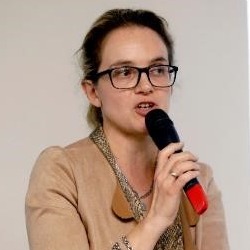 Associate Professor
SSD
GEO/04 - PHYSICAL GEOGRAPHY AND GEOMORPHOLOGY
Competition sector
04/A3 - ENGINEERING GEOLOGY, PHYSICAL GEOGRAPHY AND GEOMORPHOLOGY
Research fields and competencies
Teaching - Programme courses
A.Y. 2021/2022
2nd level vocational master
A.Y. 2019/2020
2nd level vocational master
Research
Publications
Comparison of ammonia air concentration before and during the spread of COVID-19 in Lombardy (Italy) using ground-based and satellite data / D. Lovarelli, D. Fugazza, M. Costantini, C. Conti, G. Diolaiuti, M. Guarino. - In: ATMOSPHERIC ENVIRONMENT. - ISSN 1352-2310. - 259(2021 Aug 15), pp. 118534.1-118534.12.

Snow cover variability in the greater alpine region in the MODIS era (2000–2019) / D. Fugazza, V. Manara, A. Senese, G. Diolaiuti, M. Maugeri. - In: REMOTE SENSING. - ISSN 2072-4292. - 13:15(2021 Jul 27), pp. 2945.1-2945.26. [10.3390/rs13152945]

Vanishing permanent glaciers : climate change is threatening a European Union habitat (Code 8340) and its poorly known biodiversity / M. Gobbi, R. Ambrosini, C. Casarotto, G. Diolaiuti, G.F. Ficetola, V. Lencioni, R. Seppi, C. Smiraglia, D. Tampucci, B. Valle, M. Caccianiga. - In: BIODIVERSITY AND CONSERVATION. - ISSN 0960-3115. - 30:7(2021 Jun), pp. 2267-2276.

Land-use improvements in the weather research and forecasting model over complex mountainous terrain and comparison of different grid sizes / A. Golzio, S. Ferrarese, C. Cassardo, G.A. Diolaiuti, M. Pelfini. - In: BOUNDARY-LAYER METEOROLOGY. - ISSN 0006-8314. - (2021 Apr 28). [Epub ahead of print]

Multifractal analysis of glaciers in the Lombardy region of the Italian Alps / M. Carpineti, A. Rossoni, A. Senese, D. Maragno, G.A. Diolaiuti, A. Vailati. - In: JOURNAL OF PHYSICS. COMPLEXITY. - ISSN 2632-072X. - 2:2(2021), pp. 025003.1-025003.12.