Muller Ilaria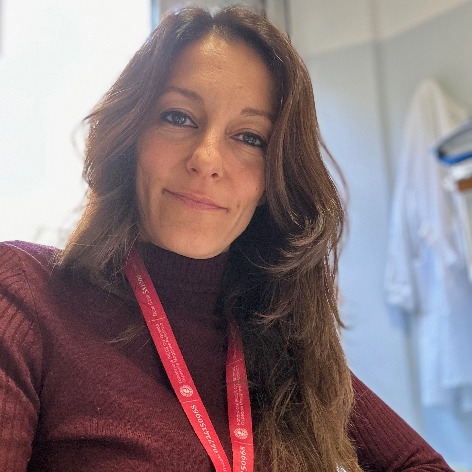 Fixed-term Research Fellow B
SSD
MED/13 - ENDOCRINOLOGY AND METABOLISM
Competition sector
06/D2 - ENDOCRINOLOGY, NEPHROLOGY, FOOD AND WELLNESS SCIENCE
Research fields and competencies
Teaching - Programme courses
A.Y. 2019/2020
Postgraduate Schools - Medicine, Healthcare, Dental Medicine
Research
Publications
Efficacy profile and safety implications of very low dose Rituximab in patients with graves' orbitopathy / G.M. Vannucchi, I. Campi, D. Covelli, N. Curro, E. Lazzaroni, A. Palomba, D. Soranna, A. Zambon, L. Fugazzola, I. Muller, C. Guastella, M. Salvi. - In: THYROID. - ISSN 1050-7256. - 31:5(2021), pp. 821-828. [10.1089/thy.2020.0269]

SARS-CoV-2-related atypical thyroiditis / I. Muller, D. Cannavaro, D. Dazzi, D. Covelli, G. Mantovani, A. Muscatello, E. Ferrante, E. Orsi, V. Resi, V. Longari, M. Cuzzocrea, A. Bandera, E. Lazzaroni, A. Dolci, F. Ceriotti, T.E. Re, A. Gori, M. Arosio, M. Salvi. - In: THE LANCET DIABETES & ENDOCRINOLOGY. - ISSN 2213-8587. - 8:9(2020 Sep), pp. 739-741.

The antigenic link between thyroid autoimmunity and breast cancer / I. Muller, P.J. Barrett-Lee. - In: SEMINARS IN CANCER BIOLOGY. - ISSN 1044-579X. - 64(2020 Aug), pp. 122-134.

Indications for treatment of subclinical hypothyroidism and isolated hypothyroxinaemia in pregnancy / P.N. Taylor, I. Muller, M. Nana, I. Velasco, J.H. Lazarus. - In: BAILLIERE'S BEST PRACTICE & RESEARCH. CLINICAL ENDOCRINOLOGY & METABOLISM. - ISSN 1521-690X. - 34:4(2020 Jul).

CATS II long-term anthropometric and metabolic effects of maternal sub-optimal thyroid function in offspring and mothers / I. Muller, P.N. Taylor, R.M. Daniel, C. Hales, A. Scholz, T. Candler, R.J. Pettit, W.D. Evans, D. Shillabeer, M.S. Draman, C.M. Dayan, H.K.C. Tang, O. Okosieme, J.W. Gregory, J.H. Lazarus, D.A. Rees, M.E. Ludgate. - In: THE JOURNAL OF CLINICAL ENDOCRINOLOGY AND METABOLISM. - ISSN 0021-972X. - 105:7(2020 Jul 01), pp. 2150-2161.