Bollati Irene Maria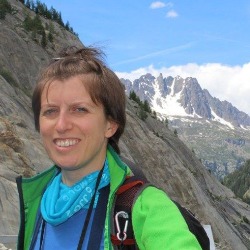 Fixed-term Research Fellow B
SSD
GEO/04 - PHYSICAL GEOGRAPHY AND GEOMORPHOLOGY
Competition sector
04/A3 - ENGINEERING GEOLOGY, PHYSICAL GEOGRAPHY AND GEOMORPHOLOGY
Research fields and competencies
Publications
Weather Simulation of Extreme Precipitation Events Inducing Slope Instability Processes over Mountain Landscapes / A. Golzio, I.M. Bollati, M. Luciani, M. Pelfini, S. Ferrarese. - In: APPLIED SCIENCES. - ISSN 2076-3417. - 10:12(2020 Sep 20).

A multidisciplinary approach for physical landscape analysis: scientific value and risk of degradation of outstanding landforms in the glacial plateau of the Loana Valley (Central-Western Italian Alps) / I.M. Bollati, B. Crosa Lenz, V. Caironi. - In: ITALIAN JOURNAL OF GEOSCIENCES. - ISSN 2038-1719. - 139:2(2020 Jun), pp. 233-251.

Fieldtrips and Virtual Tours as Geotourism Resources: Examples from the Sesia Val Grande UNESCO Global Geopark (NW Italy) / L. Perotti, I.M. Bollati, C. Viani, E. Zanoletti, V. Caironi, M. Pelfini, M. Giardino. - In: RESOURCES. - ISSN 2079-9276. - 9:6(2020 May 29).

Papia civitas gloriosa: urban geomorphology for a thematic itinerary on geocultural heritage in Pavia (Central Po Plain, N Italy) / M. Pelfini, F. Brandolini, S. D'Archi, L. Pellegrini, I. Bollati. - In: JOURNAL OF MAPS. - ISSN 1744-5647. - (2020), pp. 1-9. [Epub ahead of print]

A procedure to structure multidisciplinary educational fieldworks for understanding spatio-temporal evolution of the Alpine landscape / I.M. Bollati, B. Crosa Lenz, E. Zanoletti. - In: RENDICONTI ONLINE DELLA SOCIETÀ GEOLOGICA ITALIANA. - ISSN 2035-8008. - 49(2019 Nov), pp. 11-19.