Biondi Laura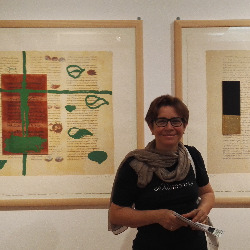 Tenured Associate Professor
SSD
L-LIN/01 - HISTORICAL AND GENERAL LINGUISTICS
Competition sector
10/G1 - HISTORICAL AND GENERAL LINGUISTICS
Research fields and competencies
Office
Microsoft Teams Platform. Please, contact the teacher via email.
Teaching - Programme courses
Research
Publications
Aspetti logonimici nelle 'artes lectoriae' / L. Biondi. - In: ANNALI DEL DIPARTIMENTO DI STUDI LETTERARI, LINGUISTICI E COMPARATI. SEZIONE LINGUISTICA. - ISSN 2281-6585. - 10(2021), pp. 31-94.

Linguistic debates in the tradition of 'grammatica practica' in the Late Middle Ages / L. Biondi. ((Intervento presentato al convegno Grammatica Iranica, Indo-Iranica necnon Indo-Europea: An Austro-Italian symposium on historical and comparative morphology, word-formation and syntax tenutosi a Wien nel 2018.

Pratiche normative della parola: 'grammatica', filologia, retorica nella Latinità del basso Medioevo / L. Biondi - In: Filologia e societàMilano : Veneranda Biblioteca Ambrosiana, 2018. (( Intervento presentato al 6. convegno Filologia e società : Dalle origini all'Umanesimo tenutosi a Milano nel 2018.

TEBALDO (Thebaldus, Tebaldus) / L. Biondi - In: Dizionario biografico degli italiani. 95: Taranto-TogniPrima edizione. - [s.l] : Istituto dell'Enciclopedia Italiana, 2018. - ISBN 9788812000326.

Rolando Ferri, Anna Zago (eds.), The Latin of the Grammarians. Reflections about Language in the Roman World, Turnhout, Brepols ("Corpus Christianorum Lingua Patrum" viii), 2016, pp. 453 / L. Biondi. - In: INCONTRI LINGUISTICI. - ISSN 0390-2412. - 40(2017 Dec), pp. 123-126.