Baldini Luca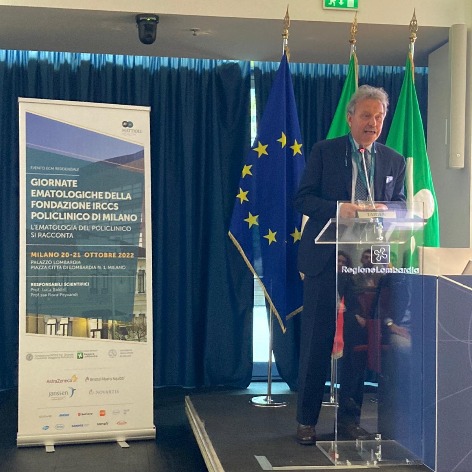 Tenured Associate Professor
SSD
MED/15 - BLOOD DISEASES
Competition sector
06/D3 - BLOOD DISEASES, ONCOLOGY AND RHEUMATOLOGY
Research fields and competencies
Teaching - Programme courses
A.Y. 2019/2020
Postgraduate Schools - Medicine, Healthcare, Dental Medicine
A.Y. 2018/2019
Postgraduate Schools - Medicine, Healthcare, Dental Medicine
Research
Publications
A brief rituximab, bendamustine, mitoxantrone (R-BM) induction followed by rituximab consolidation in elderly patients with advanced follicular lymphoma: a phase II study by the Fondazione Italiana Linfomi (FIL) / C. Boccomini, M. Ladetto, L. Rigacci, B. Puccini, S. Rattotti, S. Volpetti, S. Ferrero, A. Chiarenza, R. Freilone, M. Novo, P. Corradini, L. Nassi, C. Rusconi, C. Stelitano, S. Bolis, A. Marina Liberati, A. Tucci, L. Baldini, M. Balzarotti, A. Evangelista, G. Ciccone, U. Vitolo. - In: BRITISH JOURNAL OF HAEMATOLOGY. - ISSN 0007-1048. - (2021). [Epub ahead of print]

Triple-Negative Essential Thrombocythemia: Clinical-Pathological and Molecular Features. A Single-Center Cohort Study / D. Cattaneo, G.A. Croci, C. Bucelli, S. Tabano, M.G. Cannone, G. Gaudioso, M.C. Barbanti, K. Barbullushi, P. Bianchi, E. Fermo, S. Fabris, L. Baldini, U. Gianelli, A. Iurlo. - In: FRONTIERS IN ONCOLOGY. - ISSN 2234-943X. - 11(2021), pp. 637116.1-637116.10. [10.3389/fonc.2021.637116]

What Is New in the Treatment of Smoldering Multiple Myeloma? / N. Bolli, N. Sgherza, P. Curci, R. Rizzi, V. Strafella, M. Delia, V. Pier Gagliardi, A. Neri, L. Baldini, F. Albano, P. Musto. - In: JOURNAL OF CLINICAL MEDICINE. - ISSN 2077-0383. - 10:3(2021), p. 421. [10.3390/jcm10030421]

New perspectives on polycythemia vera : from diagnosis to therapy / A. Iurlo, D. Cattaneo, C. Bucelli, L. Baldini. - In: INTERNATIONAL JOURNAL OF MOLECULAR SCIENCES. - ISSN 1661-6596. - 21:16(2020 Aug 13), pp. 5805.1-5805.16. [10.3390/ijms21165805]

Limits and Applications of Genomic Analysis of Circulating Tumor DNA as a Liquid Biopsy in Asymptomatic Forms of Multiple Myeloma / M. Manzoni, A. Pompa, S. Fabris, F. Pelizzoni, G. Ciceri, M. Seia, B. Ziccheddu, N. Bolli, P. Corradini, L. Baldini, A. Neri, M. Lionetti. - In: HEMASPHERE. - ISSN 2572-9241. - 4:4(2020 Aug), pp. e402.1-e402.4.