Angiolini Lucia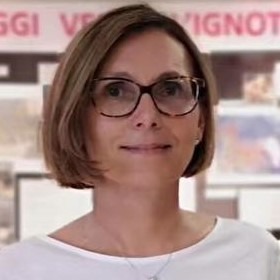 Full professor
SSD
GEO/01 - PALEONTOLOGY AND PALEOECOLOGY
Competition sector
04/A2 - STRUCTURAL GEOLOGY, STRATIGRAPHY, SEDIMENTOLOGY AND PALEONTOLOGY
Research fields and competencies
Head of Interdepartmental Study Programme
Office
Department of Earth Sciences "Ardito Desio" or by email.
Teaching - Programme courses
Research
Publications
Frost action and human occupation during the Late Pleistocene in the Italian Southern Alps : micromorphological evidences from the Caverna Generosa cave / E. Sessa, F. Bona, L. Angiolini. - In: ITALIAN JOURNAL OF GEOSCIENCES. - ISSN 2038-1719. - (2020 Dec 30). [Epub ahead of print]

Abrupt warming in the latest Permian detected using high-resolution in situ oxygen isotopes of conodont apatite from Abadeh, central Iran / J. Chen, S.-. Shen, Y.-. Zhang, L. Angiolini, M.N. Gorgij, G. Crippa, W. Wang, H. Zhang, D.-. Yuan, X.-. Li, Y.-. Xu. - In: PALAEOGEOGRAPHY PALAEOCLIMATOLOGY PALAEOECOLOGY. - ISSN 0031-0182. - 560(2020 Dec 15).

The shell fabric of Palaeozoic brachiopods : patterns and trends / F. Ye, C. Garbelli, S. Shen, L. Angiolini. - In: LETHAIA. - ISSN 0024-1164. - (2020 Dec 05). [Epub ahead of print]

The giants of the phylum Brachiopoda: a matter of diet? In press Palaeontology / L. Angiolini, G. Crippa, K. Azmy, G. Capitani, G. Confalonieri, G. Della Porta, E. Griesshaber, D.A.T. Harper, M.J. Leng, L. Nolan, M. Orlandi, R. Posenato, W.W. Schmahl, V.J. Banks, M.H. Stephenson. - In: PALAEONTOLOGY. - ISSN 0031-0239. - 62:6(2019 Nov 01), pp. 889-917.

Variation in brachiopod microstructure and isotope geochemistry under low pH–ocean acidification–conditions / F. Ye, H. Jurikova, L. Angiolini, U. Brand, G. Crippa, D. Henkel, J. Laudien, C. Hiebenthal, D. Šmajgl. - In: BIOGEOSCIENCES. - ISSN 1726-4189. - 16:2(2019 Feb 01), pp. 617-642.