Pinotti Luciano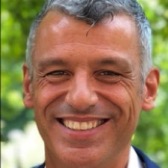 Full professor
SSD
AGR/18 - ANIMAL NUTRITION AND FEEDING
Competition sector
07/G1 - ANIMAL SCIENCE AND TECHNOLOGY
Research fields and competencies
Publications
Insect and fish by-products as sustainable alternatives to conventional animal proteins in animal nutrition / L. Gasco, G. Acuti, P. Bani, A. Dalle Zotte, P.P. Danieli, A. De Angelis, R. Fortina, R. Marino, G. Parisi, G. Piccolo, L. Pinotti, A. Prandini, A. Schiavone, G. Terova, F. Tulli, A. Roncarati. - In: ITALIAN JOURNAL OF ANIMAL SCIENCE. - ISSN 1828-051X. - 19:1(2020 Dec 14), pp. 360-372.

The role of micronutrients in high-yielding dairy ruminants: Choline and vitamin E / L. Pinotti, M. Manoni, F. Fumagalli, N. Rovere, M. Tretola, A. Baldi. - In: ANKARA ÜNIVERSITESI VETERINER FAKÜLTESI DERGISI. - ISSN 1300-0861. - 67:2(2020), pp. 209-213.

Milk proteins: Their role in cardiovascular health / C. GIROMINI, Á.A. Fekete, L. PINOTTI, A. BALDI - In: Milk and Dairy Foods : Their Functionality in Human Health and Disease / [a cura di] I. Givens. - [s.l] : Elsevier, 2020. - ISBN 9780128156032. - pp. 145-172

Potentials and Challenges of Former Food Products (Food Leftover) as Alternative Feed Ingredients / A. Luciano, M. Tretola, M. Ottoboni, A. Baldi, D. Cattaneo, L. Pinotti. - In: ANIMALS. - ISSN 2076-2615. - 10:1(2020), pp. 125-133.

Concentration-Dependent Effects of N-3 Long-Chain Fatty Acids on Na,K-ATPase Activity in Human Endothelial Cells / R. Cazzola, M. Della Porta, S. Castiglioni, L. Pinotti, J.A.M. Maier, B. Cestaro. - In: MOLECULES. - ISSN 1420-3049. - 25:1(2019 Dec 28), pp. 128.1-128.12.