Proietti Marco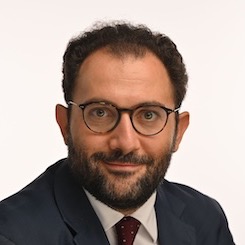 Fixed-term Research Fellow A
SSD
MED/09 - INTERNAL MEDICINE
Competition sector
06/B1 - INTERNAL MEDICINE
Research fields and competencies
Publications
Poor nutritional status is associated with fatigue in nursing home residents: a sub-group analysis from the incur study / D. Azzolino, M. Proietti, P. de Souto Barreto, Y. Rolland, B. Vellas, M. Cesari. - In: THE JOURNAL OF FRAILTY & AGING. - ISSN 2273-4309. - (2020 Mar). ((Intervento presentato al 10. convegno International Conference on Frailty and Sarcopenia Research tenutosi a Toulouse nel 2020.

Nutritional Considerations in Frail Older Patients with COVID-19 / D. Azzolino, E. Saporiti, M. Proietti, M. Cesari. - In: THE JOURNAL OF NUTRITION, HEALTH & AGING. - ISSN 1279-7707. - (2020). [Epub ahead of print]

Hospital Care of Older Patients With COPD: Adherence to International Guidelines for Use of Inhaled Bronchodilators and Corticosteroids / M. Proietti, P. Agosti, C. Lonati, S. Corrao, F. Perticone, P.M. Mannucci, A. Nobili, S. Harari, M. Tettamanti, L. Pasina, C. Franchi, A. Marengoni, F. Salerno, M. Cesari, G. Licata, F. Violi, G.R. Corazza, L. Cortesi, I. Ardoino, D. Prisco, E. Silvestri, C. Cenci, G. Emmi, G. Biolo, M. Zanetti, M. Guadagni, M. Zaccari, M. Vanoli, G. Grignani, E.A. Pulixi, M. Bernardi, S.L. Bassi, L. Santi, G. Zaccherini, E. Mannarino, G. Lupattelli, V. Bianconi, F. Paciullo, R. Nuti, R. Valenti, M. Ruvio, S. Cappelli, A. Palazzuoli, O. Olivieri, D. Girelli, T. Matteazzi, M. Barbagallo, L. Dominguez, F. Cocita, V. Beneduce, L. Plances, M. Zoli, I. Lazzari, M. Brunori, F.L. Pasini, P.L. Capecchi, G. Palasciano, M.E. Modeo, C. Di Gennaro, M.D. Cappellini, D. Maira, V. Di Stefano, G. Fabio, S. Seghezzi, M. Mancarella, P.D. Rossi, S. Damanti, M. Clerici, F. Conti, E. Miceli, M.V. Lenti, M. Pisati, C.C. Dominioni, G. Murialdo, A. Marra, F. Cattaneo, R. Pontremoli, M.B. Secchi, D. Ghelfi, L. Anastasio, L. Sofia, M. Carbone, F. Cipollone, M.T. Guagnano, E. Angelucci, E. Valeriani, G. Mancuso, D. Calipari, M. Bartone, G. Delitala, M. Berria, M. Muscaritoli, A. Molfino, E. Petrillo, G. Zuccala, G. D'Aurizio, G. Romanelli, A. Zucchelli, A. Picardi, U.V. Gentilucci, P. Gallo, C. Dell'Unto, G. Annoni, M. Corsi, G. Bellelli, S. Zazzetta, P. Mazzola, H. Szabo, A. Bonfanti, F. Arturi, E. Succurro, M. Rubino, M.G. Serra, M.A. Bleve, L. Gasbarrone, M.R. Sajeva, A. Brucato, S. Ghidoni, F. Fabris, I. Bertozzi, G. Bogoni, M.V. Rabuini, E. Cosi, R. Manfredini, F. Fabbian, B. Boari, A. De Giorgi, R. Tiseo, G. Paolisso, M.R. Rizzo, C. Borghi, E. Strocchi, V. De Sando, I. Pareo, C. Sabba, F.S. Vella, P. Suppressa, A. Schilardi, F. Loparco, L. Fenoglio, C. Bracco, A.V. Giraudo, S. Fargion, G. Periti, M. Porzio, S. Tiraboschi, F. Peyvandi, R. Rossio, B. Ferrari, G. Colombo, V. Monzani, V. Savojardo, C. Folli, G. Ceriani, G. Pallini, F. Dallegri, L. Ottonello, L. Liberale, L. Caserza, K. Salam, N.L. Liberato, T. Tognin, G.B. Bianchi, S. Giaquinto, F. Purrello, A. Di Pino, S. Piro, R. Rozzini, L. Falanga, E. Spazzini, C. Ferrandina, G. Montrucchio, P. Petitti, R. Salmi, P. Gaudenzi, L. Perri, R. Landolfi, M. Montalto, A. Mirijello, L. Guasti, L. Castiglioni, A. Maresca, A. Squizzato, M. Molaro, A. Grossi, M. Bertolotti, C. Mussi, M.V. Libbra, G. Dondi, E. Pellegrini, L. Carulli, L. Colangelo, T. Falbo, V. Stanghellini, R. De Giorgio, E. Ruggeri, S.D. Vecchio, A. Salvi, R. Leonardi, G. Damiani, A. Gabrielli, W. Capeci, M. Mattioli, G.P. Martino, L. Biondi, P. Pettinari, R. Ghio, A.D. Col, S. Minisola, L. Colangelo, A. Afeltra, B. Marigliano, M.E. Pipita, P. Castellino, J. Blanco, L. Zanoli, S. Pignataro, V. Saracco, M. Fogliati, C. Bussolino, F. Mete, M. Gino, A. Cittadini, C. Vigorito, M. Arcopinto, A. Salzano, E. Bobbio, A.M. Marra, D. Sirico, G. Moreo, F. Gasparini, S. Prolo, G. Pina, A. Ballestrero, F. Ferrando, S. Berra, S. Dassi, M.C. Nava, B. Graziella, S. Baldassarre, S. Fragapani, G. Gruden, G. Galanti, G. Mascherini, C. Petri, L. Stefani, M. Girino, V. Piccinelli, F. Nasso, V. Gioffre, M. Pasquale, G. Scattolin, S. Martinelli, M. Turrin, L. Sechi, C. Catena, G. Colussi, N. Passariello, L. Rinaldi, F. Berti, G. Famularo, T. Patrizia, R. BOTTARI DE CASTELLO, M. Pasino, G.P. Ceda, M.G. Maggio, S. Morganti, A. Artoni, S. Del Giacco, D. Firinu, F. Losa, G. Paoletti, G. Montalto, A. Licata, V. Malerba, L. Antonino, G. Basile, C. Antonino, L. Malatino, B. Stancanelli, V. Terranova, S. Di Marca, P. Mecocci, C. Ruggiero, V. Boccardi, T. Meschi, F. Lauretani, A. Ticinesi, P. Minuz, L. Fondrieschi, M. Pirisi, G.P. Fra, D. Sola, M. Porta, P. Riva, R. Quadri, G. Scanzi, C. Mengoli, S. Provini, L. Ricevuti, E. Simeone, R. Scurti, F. Tolloso, R. Tarquini, A. Valoriani, S. Dolenti, G. Vannini, A. Tedeschi, L. Trotta, R. Volpi, P. Bocchi, A. Vignali, M. Cattaneo. - In: JOURNAL OF THE AMERICAN MEDICAL DIRECTORS ASSOCIATION. - ISSN 1525-8610. - 20:10(2019 Oct), pp. 1313.e9-1317.e9.

Simulation-Based Education for Physicians to Increase Oral Anticoagulants in Hospitalized Elderly Patients with Atrial Fibrillation / C. Franchi, S. Antoniazzi, I. Ardoino, M. Proietti, M. Marcucci, P. Santalucia, V. Monzani, P.M. Mannucci, A. Nobili. - In: THE AMERICAN JOURNAL OF MEDICINE. - ISSN 0002-9343. - 132:8(2019 Aug), pp. e634-e647.

Cost-effectiveness and screening performance of ECG handheld machine in a population screening programme : the Belgian Heart Rhythm Week screening programme / M. Proietti, A. Farcomeni, P. Goethals, C. Scavee, J. Vijgen, I. Blankoff, Y. Vandekerckhove, G.Y.H. Lip, G.H. Mairesse. - In: EUROPEAN JOURNAL OF PREVENTIVE CARDIOLOGY. - ISSN 2047-4873. - 26:9(2019 Jun 01), pp. 964-972.