Giudici Mauro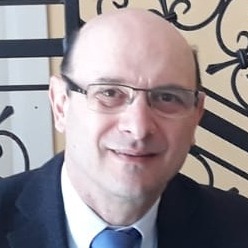 Full professor
SSD
GEO/12 - OCEANOGRAPHY AND PHYSICS OF THE ATMOSPHERE
Competition sector
04/A4 - GEOPHYSICS
Research fields and competencies
Delegato Progetto Scientifico Campus Area Mind
Teaching - Programme courses
Research
Publications
CoViD-19, learning from the past : A wavelet and cross-correlation analysis of the epidemic dynamics looking to emergency calls and Twitter trends in Italian Lombardy region / B.A. Rivieccio, A. Micheletti, M. Maffeo, M. Zignani, A. Comunian, F. Nicolussi, S. Salini, G. Manzi, F. Auxilia, M. Giudici, G. Naldi, S. Gaito, S. Castaldi, E. Biganzoli. - In: PLOS ONE. - ISSN 1932-6203. - 16:2(2021 Feb 25), pp. e0247854.1-e0247854.20.

Improving the robustness of the Comparison Model Method for the identification of hydraulic transmissivities / A. Comunian, M. Giudici. - In: COMPUTERS & GEOSCIENCES. - ISSN 0098-3004. - 149(2021), pp. 104705.1-104705.14.

Inversion of a SIR-based model: A critical analysis about the application to COVID-19 epidemic / A. Comunian, R. Gaburro, M. Giudici. - In: PHYSICA D-NONLINEAR PHENOMENA. - ISSN 0167-2789. - 413(2020), pp. 132674.1-132674.13.

A conceptual framework for discrete inverse problems in geophysics / M. Giudici, F. Baratelli, L. Cattaneo, A. Comunian, G. DE FILIPPIS, C. Durante, F. Giacobbo, S. Inzoli, M. Mele, C. Vassena. - (2019 Jan 23).

About the dependence of breakthrough curves on flow direction in column experiments of transport across a sharp interface separating different porous materials / F. Giacobbo, M. Giudici, M. Da Ros. - In: GEOFLUIDS. - ISSN 1468-8115. - 2019(2019).