Giudici Mauro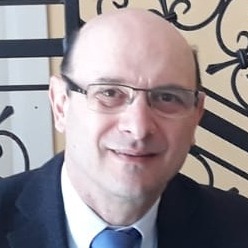 Full professor
SSD
GEO/12 - OCEANOGRAPHY AND PHYSICS OF THE ATMOSPHERE
Competition sector
04/A4 - GEOPHYSICS
Research fields and competencies
Delegato Progetto Scientifico Campus Area Mind
Teaching - Programme courses
Research
Publications
Inversion of a SIR-based model: A critical analysis about the application to COVID-19 epidemic / A. Comunian, R. Gaburro, M. Giudici. - In: PHYSICA D-NONLINEAR PHENOMENA. - ISSN 0167-2789. - 413(2020), pp. 132674.1-132674.13.

A conceptual framework for discrete inverse problems in geophysics / M. Giudici, F. Baratelli, L. Cattaneo, A. Comunian, G. DE FILIPPIS, C. Durante, F. Giacobbo, S. Inzoli, M. Mele, C. Vassena. - (2019 Jan 23).

An electrostratigraphic cross-section across the central Po plain : bearings on subsurface geology and hydrostratigraphy / M. Mele, R. Bersezio, M. Giudici. - In: INTERNATIONAL JOURNAL OF EARTH SCIENCES. - ISSN 1437-3254. - 107(2018 Nov), pp. 2787-2802.

Improving Bowen-ratio estimates of evaporation using a rejection criterion and multiple-point statistics / A. Comunian, M. Giudici, L. Landoni, S. Pugnaghi. - In: JOURNAL OF HYDROLOGY. - ISSN 0022-1694. - 563(2018 Aug), pp. 43-50.

Urban geoheritage as a resource for Earth Sciences education: examples from Milan metropolitan area / M. Pelfini, I. Bollati, M. Giudici, T. Pedrazzini, M. Sturani, M. Zucali. - In: RENDICONTI ONLINE DELLA SOCIETÀ GEOLOGICA ITALIANA. - ISSN 2035-8008. - 45(2018 Jul), pp. 83-88.