Manini Nicola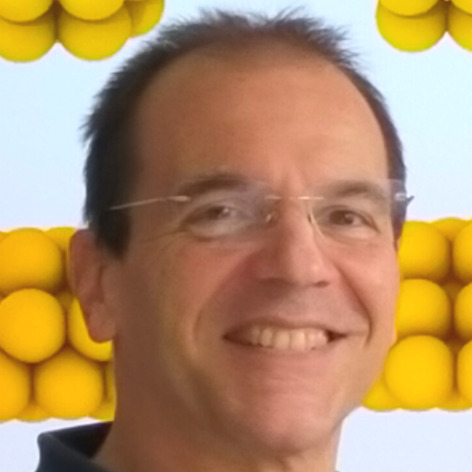 Tenured Associate Professor
SSD
FIS/03 - PHYSICS OF MATTER
Competition sector
02/B2 - THEORETICAL PHYSICS OF MATTER
Research fields and competencies
Publications
Scanning tunneling microscopy and Raman spectroscopy of polymeric sp-sp2 carbon atomic wires synthesized on the Au(111) surface / A. Rabia, F. Tumino, A. Milani, V. Russo, A. Li Bassi, S. Achilli, G. Fratesi, G. Onida, N. Manini, Q. Sun, W. Xu, C.S. Casari. - In: NANOSCALE. - ISSN 2040-3364. - 11:39(2019 Oct 10), pp. 18191-18200.

Spectroscopic Fingerprints of sp1 Hybridized C in Surface-Grown Molecular Assemblies / G. Fratesi, S. Achilli, N. Manini, G. Onida, A. Baby, A. Ravikumar, A. Ugolotti, G. Paolo Brivio, A. Milani, C. Spartaco Casari. ((Intervento presentato al 15. convegno European Conference on Molecular Electronics (ECME) tenutosi a Linkoping nel 2019.

Planetary silver nanoparticles originating from a magnetron sputter plasma / S. Marom, M. Plesser, R. Modi, N. Manini, M. Di Vece. - In: JOURNAL OF PHYSICS D. APPLIED PHYSICS. - ISSN 0022-3727. - 52:9(2019 Feb 27).

Detachment Dynamics of Graphene Nanoribbons on Gold / L. Gigli, S. Kawai, R. Guerra, N. Manini, R. Pawlak, X. Feng, K. Müllen, P. Ruffieux, R. Fasel, E. Tosatti, E. Meyer, A. Vanossi. - In: ACS NANO. - ISSN 1936-0851. - 13:1(2019 Jan 22), pp. 689-697.

Orientational and directional locking of colloidal clusters driven across periodic surfaces / X. Cao, E. Panizon, A. Vanossi, N. Manini, C. Bechinger. - In: NATURE PHYSICS. - ISSN 1745-2473. - 15:8(2019), pp. 776-780.