Brambilla Paolo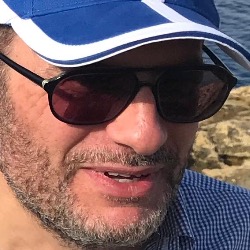 Associate Professor
Competition sector
06/D5 - PSYCHIATRY
Research fields and competencies
Head of Interdepartmental Study Programme
Office
Via Della Commenda, 10/12 - Ospedale Maggiore Policlinico - Pad. Alfieri, first floor
Teaching - Programme courses
A.Y. 2021/2022
A.Y. 2020/2021
A.Y. 2019/2020
A.Y. 2018/2019
Research
Publications
A longitudinal analysis of a work inclusion model for psychiatric patients in the Mental Health Departments of the city of Milan / L. Ferrara, A. Varinelli, V. Caricasole, C. Dragoni, S. Mazzardis, A. Quarenghi, P. Rubelli, A. Fusi, M. Percudani, M. Cisima, C. Mencacci, T. Maranesi, O. Gambini, V. Barbieri, P. Brambilla, M. Lazzaretti, G. Carrà, A. Latina, C. Viganò, B. Dell'Osso. - In: INTERNATIONAL JOURNAL OF SOCIAL PSYCHIATRY. - ISSN 0020-7640. - (2021 Aug 31). [Epub ahead of print] [10.1177/00207640211042919]

Gastrointestinal side effects associated with antidepressant treatments in patients with major depressive disorder: A systematic review and meta-analysis / V. Oliva, M. Lippi, R. Paci, L. Del Fabro, G. Delvecchio, P. Brambilla, D. De Ronchi, G. Fanelli, A. Serretti. - In: PROGRESS IN NEURO-PSYCHOPHARMACOLOGY & BIOLOGICAL PSYCHIATRY. - ISSN 0278-5846. - 109(2021 Jul 13). [10.1016/j.pnpbp.2021.110266]

Heterogeneity and Classification of Recent Onset Psychosis and Depression: A Multimodal Machine Learning Approach / P.A. Lalousis, S.J. Wood, L. Schmaal, K. Chisholm, S.L. Griffiths, R.L.E.P. Reniers, A. Bertolino, S. Borgwardt, P. Brambilla, J. Kambeitz, R. Lencer, C. Pantelis, S. Ruhrmann, R.K.R. Salokangas, F. Schultze-Lutter, C. Bonivento, D. Dwyer, A. Ferro, T. Haidl, M. Rosen, A. Schmidt, E. Meisenzahl, N. Koutsouleris, R. Upthegrove. - In: SCHIZOPHRENIA BULLETIN. - ISSN 0586-7614. - 47:4(2021 Jul 01), pp. 1130-1140. [10.1093/schbul/sbaa185]

Psychomotor Agitation Non-responsive to Treatment: A Case Report of Phenibut Withdrawal Syndrome / C.M. Esposito, G.M. Mandolini, G. Delvecchio, A. Fiorentini, P. Brambilla. - In: FRONTIERS IN PSYCHIATRY. - ISSN 1664-0640. - 12(2021 Jun 28). [10.3389/fpsyt.2021.688147]

Classification of first-episode psychosis using cortical thickness : A large multicenter MRI study / A. Pigoni, D. Dwyer, L. Squarcina, S. Borgwardt, B. Crespo-Facorro, P. Dazzan, S. Smesny, F. Spaniel, G. Spalletta, R. Sanfelici, L.A. Antonucci, A. Reuf, O.F. Oeztuerk, A. Schmidt, S. Ciufolini, F. Schönborn-Harrisberger, K. Langbein, A. Gussew, J.R. Reichenbach, Y. Zaytseva, F. Piras, G. Delvecchio, M. Bellani, M. Ruggeri, A. Lasalvia, D. Tordesillas-Gutiérrez, V. Ortiz, R.M. Murray, T. Reis-Marques, M. Di Forti, N. Koutsouleris, P. Brambilla. - In: EUROPEAN NEUROPSYCHOPHARMACOLOGY. - ISSN 0924-977X. - 47(2021 Jun), pp. 34-47.