Brambilla Paolo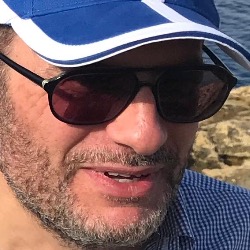 Associate Professor
Competition sector
06/D5 - PSYCHIATRY
Research fields and competencies
Head of Interdepartmental Study Programme
Advance Course Coordinator
Office
Via Della Commenda, 10/12 - Ospedale Maggiore Policlinico - Pad. Alfieri, first floor
Teaching - Programme courses
A.Y. 2020/2021
A.Y. 2019/2020
A.Y. 2018/2019
Research
Publications
Gastrointestinal side effects associated with antidepressant treatments in patients with major depressive disorder: A systematic review and meta-analysis / V. Oliva, M. Lippi, R. Paci, L. Del Fabro, G. Delvecchio, P. Brambilla, D. De Ronchi, G. Fanelli, A. Serretti. - In: PROGRESS IN NEURO-PSYCHOPHARMACOLOGY & BIOLOGICAL PSYCHIATRY. - ISSN 0278-5846. - 109(2021 Jul 13).

Psychomotor Agitation Non-responsive to Treatment: A Case Report of Phenibut Withdrawal Syndrome / C.M. Esposito, G.M. Mandolini, G. Delvecchio, A. Fiorentini, P. Brambilla. - In: FRONTIERS IN PSYCHIATRY. - ISSN 1664-0640. - 12(2021 Jun 28). [10.3389/fpsyt.2021.688147]

Classification of first-episode psychosis using cortical thickness : A large multicenter MRI study / A. Pigoni, D. Dwyer, L. Squarcina, S. Borgwardt, B. Crespo-Facorro, P. Dazzan, S. Smesny, F. Spaniel, G. Spalletta, R. Sanfelici, L.A. Antonucci, A. Reuf, O.F. Oeztuerk, A. Schmidt, S. Ciufolini, F. Schönborn-Harrisberger, K. Langbein, A. Gussew, J.R. Reichenbach, Y. Zaytseva, F. Piras, G. Delvecchio, M. Bellani, M. Ruggeri, A. Lasalvia, D. Tordesillas-Gutiérrez, V. Ortiz, R.M. Murray, T. Reis-Marques, M. Di Forti, N. Koutsouleris, P. Brambilla. - In: EUROPEAN NEUROPSYCHOPHARMACOLOGY. - ISSN 0924-977X. - 47(2021 Jun), pp. 34-47.

Sex and dependence related neuroanatomical differences in regular cannabis users : findings from the ENIGMA Addiction Working Group / M.G. Rossetti, S. Mackey, P. Patalay, N.B. Allen, A. Batalla, M. Bellani, Y. Chye, P. Conrod, J. Cousijn, H. Garavan, A.E. Goudriaan, R. Hester, R. Martin-Santos, N. Solowij, C. Suo, P.M. Thompson, M. Yücel, P. Brambilla, V. Lorenzetti. - In: TRANSLATIONAL PSYCHIATRY. - ISSN 2158-3188. - 11:1(2021 May), pp. 272.1-272.11.

Effects of pharmacological treatments on emotional tasks in borderline personality disorder: A review of functional magnetic resonance imaging studies / G. Cattarinussi, G. Delvecchio, C. Prunas, C. Moltrasio, P. Brambilla. - In: JOURNAL OF AFFECTIVE DISORDERS. - ISSN 0165-0327. - 288(2021 Apr 03), pp. 50-57.