Brambilla Paolo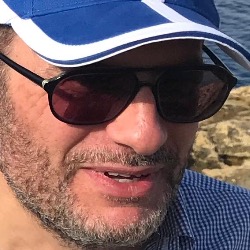 Associate Professor
Competition sector
06/D5 - PSYCHIATRY
Research fields and competencies
Head of Interdepartmental Study Programme
Advance Course Coordinator
Office
Via Della Commenda, 10/12 - Ospedale Maggiore Policlinico - Pad. Alfieri, first floor
Teaching - Programme courses
A.Y. 2020/2021
A.Y. 2019/2020
A.Y. 2018/2019
Research
Publications
Structural neuroimaging of somatoform disorders: a systematic review / M.G. Rossetti, G. Delvecchio, R. Calati, C. Perlini, M. Bellani, P. Brambilla. - In: NEUROSCIENCE AND BIOBEHAVIORAL REVIEWS. - ISSN 0149-7634. - 122(2021 Mar), pp. 66-78.

Predictors of response to cognitive remediation in patients with major psychotic disorders: a narrative review / B. Biagianti, G.A. Castellaro, P. Brambilla. - In: JOURNAL OF AFFECTIVE DISORDERS. - ISSN 0165-0327. - 281(2021 Feb 15), pp. 264-270. [Epub ahead of print]

General psychopathology links burden of recent life events and psychotic symptoms in a network approach / L.T. Betz, N. Penzel, L. Kambeitz-Ilankovic, M. Rosen, K. Chisholm, A. Stainton, T.K. Haidl, J. Wenzel, A. Bertolino, S. Borgwardt, P. Brambilla, R. Lencer, E. Meisenzahl, S. Ruhrmann, R.K.R. Salokangas, F. Schultze-Lutter, S.J. Wood, R. Upthegrove, N. Koutsouleris, J. Kambeitz. - In: NPJ SCHIZOPHRENIA. - ISSN 2334-265X. - 6:1(2020 Dec 15).

Hemodynamic and behavioral peculiarities in response to emotional stimuli in children with attention deficit hyperactivity disorder: An fNIRS study / M. Mauri, S. Grazioli, A. Crippa, A. Bacchetta, U. Pozzoli, S. Bertella, E. Gatti, E. Maggioni, E. Rosi, V. Diwadkar, P. Brambilla, M. Molteni, M. Nobile. - In: JOURNAL OF AFFECTIVE DISORDERS. - ISSN 0165-0327. - 277(2020 Dec 01), pp. 671-680.

Sex differences in brain metabolites in anxiety and mood disorders / A. Pigoni, G. Delvecchio, L. Squarcina, C. Bonivento, P. Girardi, L. Finos, C. Crisanti, M. Balestrieri, S. D'Agostini, J.A. Stanley, P. Brambilla. - In: PSYCHIATRY RESEARCH. NEUROIMAGING. - ISSN 0925-4927. - 305(2020 Nov 30).