Milani Paolo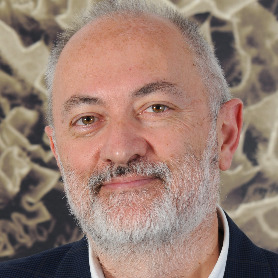 Full professor
SSD
FIS/03 - PHYSICS OF MATTER
Competition sector
02/B1 - EXPERIMENTAL PHYSICS OF MATTER
Research fields and competencies
Teaching - Programme courses
Research
Publications
Eco-friendly supercapacitors based on biodegradable poly(3-hydroxy-butyrate) and ionic liquids / L. Migliorini, T. Santaniello, F. Borghi, P. Saettone, M.C. Franchini, G. Generali, P. Milani. - In: NANOMATERIALS. - ISSN 2079-4991. - 10:10(2020 Sep 19), pp. 2062.1-2062.15.

Rational Design of a User-Friendly Aptamer/Peptide-Based Device for the Detection of Staphylococcus Aureus / L. Ronda, A. Tonelli, E. Sogne, I. Autiero, F. Spyrakis, S. Pellegrino, G. Abbiati, E. Maffioli, C. Schulte, R. Piano, P. Cozzini, A. Mozzarelli, S. Bettati, F. Clerici, P. Milani, C. Lenardi, G. Tedeschi, M.L. Gelmi. - In: SENSORS. - ISSN 1424-8220. - 20:17(2020 Sep 02), pp. 4977.1-4977.23.

Mechanotransduction impacts beta cell function by tuning mitochondrial dynamics / A. Galli, E. Maffioli, A. Marku, S. Ghislanzoni, P. Marciani, P. Milani, C. Lenardi, G. Tedeschi, C. Perego. - In: DIABETOLOGIA. - ISSN 0012-186X. - 63(2020 Aug 25), pp. 388.S192-388.S192. ((Intervento presentato al 56. convegno EASD Annual Meeting of the European Association for the Study of Diabetes nel 2020.

Proteomic Analysis Reveals a Mitochondrial Remodeling of βTC3 Cells in Response to Nanotopography / E. Maffioli, A. Galli, S. Nonnis, A. Marku, A. Negri, C. Piazzoni, P. Milani, C. Lenardi, C. Perego, G. Tedeschi. - In: FRONTIERS IN CELL AND DEVELOPMENTAL BIOLOGY. - ISSN 2296-634X. - 8(2020 Jul), pp. 508.1-508.18.

Ion-gated transistors based on porous and compact TiO2films: Effect of Li ions in the gating medium / A. Subramanian, B. George, S.R. Bobbara, I. Valitova, I. Ruggeri, F. Borghi, A. Podesta, P. Milani, F. Soavi, C. Santato, F. Cicoira. - In: AIP ADVANCES. - ISSN 2158-3226. - 10:6(2020 Jun 01).