Milani Paolo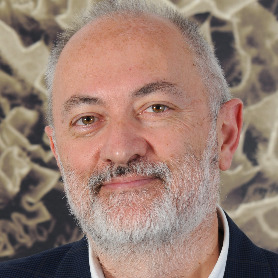 Full professor
SSD
FIS/03 - PHYSICS OF MATTER
Competition sector
02/B1 - EXPERIMENTAL PHYSICS OF MATTER
Research fields and competencies
Teaching - Programme courses
Research
Publications
Promoting Pancreatic β-cell Differentiation and Function: The Influence of Nanotopography / A. Galli, A. Marku, E. Maffioli, N. Dule, P. Marciani, M. Castagna, P. Milani, C. Lenardi. ((Intervento presentato al convegno A Scientific Symposium: In celebration of the 100th anniversary of the University of Toronto's discovery of insulin (Insulin100) tenutosi a Virtuale nel 2021.

Nanoconfinement of Ionic Liquid into Porous Carbon Electrodes / F. Borghi, C. Piazzoni, M. Ghidelli, P. Milani, A. Podesta'. - In: JOURNAL OF PHYSICAL CHEMISTRY. C. - ISSN 1932-7447. - 125:2(2021 Jan 21), pp. 1292-1303. [10.1021/acs.jpcc.0c08145]

Distinct extracellular–matrix remodeling events precede symptoms of inflammation / E. Shimshoni, I. Adir, R. Afik, I. Solomonov, A. Shenoy, M. Adler, L. Puricelli, F. Sabino, S. Savickas, O. Mouhadeb, N. Gluck, S. Fishman, L. Werner, T.-. Salame, D.S. Shouval, C. Varol, U. auf dem Keller, A. Podesta', T. Geiger, P. Milani, U. Alon, I. Sagi. - In: MATRIX BIOLOGY. - ISSN 0945-053X. - 96(2021), pp. 47-68.

CO2Methanation on Cu-Cluster Decorated Zirconia Supports with Different Morphology: A Combined Experimental in Situ GIXANES/GISAXS, Ex Situ XPS and Theoretical DFT Study / A. Halder, C. Lenardi, J. Timoshenko, A. Mravak, B. Yang, L.K. Kolipaka, C. Piazzoni, S. Seifert, V. Bonacic-Koutecky, A.I. Frenkel, P. Milani, S. Vajda. - In: ACS CATALYSIS. - ISSN 2155-5435. - 11:10(2021), pp. 6210-6224. [10.1021/acscatal.0c05029]

Eco-friendly supercapacitors based on biodegradable poly(3-hydroxy-butyrate) and ionic liquids / L. Migliorini, T. Santaniello, F. Borghi, P. Saettone, M.C. Franchini, G. Generali, P. Milani. - In: NANOMATERIALS. - ISSN 2079-4991. - 10:10(2020 Sep 19), pp. 2062.1-2062.15.