Martino Piera Anna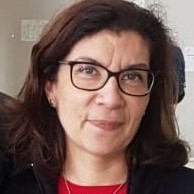 Research Fellow
SSD
VET/05 - INFECTIOUS DISEASES OF DOMESTIC ANIMALS
Competition sector
07/H3 - INFECTIOUS AND PARASITIC ANIMAL DISEASES
Research fields and competencies
Teaching - Programme courses
A.Y. 2021/2022
A.Y. 2020/2021
A.Y. 2019/2020
A.y. 2018/2019
Research
Publications
Efficacy of a Semi Automated Commercial Closed System for Autologous Leukocyte- and Platelet-Rich Plasma (l-prp) Production in Dogs : a Preliminary Study / R. Perego, E. Spada, L. Baggiani, P. Martino, D. Proverbio. - In: ANIMALS. - ISSN 2076-2615. - 10:8(2020 Aug), pp. 1342.1-1342.16.

In Vitro Efficacy of Essential Oils from Melaleuca Alternifolia and Rosmarinus Officinalis, Manuka Honey-based Gel, and Propolis as Antibacterial Agents Against Canine Staphylococcus Pseudintermedius Strains / G. Meroni, E. Cardin, C. Rendina, V.R. Herrera Millar, J.F. Soares Filipe, P.A. Martino. - In: ANTIBIOTICS. - ISSN 2079-6382. - 9:6(2020 Jun).

Stability and Safety Traits of Novel Cyclosporine A and Tacrolimus Ophthalmic Galenic Formulations Involved in Vernal Keratoconjunctivitis Treatment by a High-Resolution Mass Spectrometry Approach / D. Giovanni Ghiglioni, P.A. Martino, G. Bruschi, D. Vitali, S.G. Osnaghi, M. Grazia Corti, G. Beretta. - In: PHARMACEUTICS. - ISSN 1999-4923. - 12:4(2020 Apr 20).

Effects of probiotic Lactobacillus acidophilus D2/CSL (CECT 4529) on the nutritional and health status of boxer dogs / S.P. Marelli, E. Fusi, A. Giardini, P.A. Martino, M. Polli, N. Bruni, R. Rizzi. - In: VETERINARY RECORD. - ISSN 0042-4900. - (2020 Mar 16). [Epub ahead of print]

Diagnostic evaluation of a point-of-care test for culture and microbial susceptibility testing in canine dermatological infections in clinical practice / R. Perego, E. Spada, P.A. Martino, D. Proverbio. - In: VETERINARY WORLD. - ISSN 2231-0916. - 13:3(2020 Mar), pp. 521-529.