Riccaboni Pietro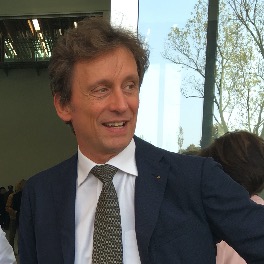 Researcher
SSD
VET/03 - VETERINARY PATHOLOGY
Competition sector
07/H2 - VETERINARY PATHOLOGY AND INSPECTION OF FOODS OF ANIMAL
Research fields and competencies
Teaching - Programme courses
A.Y. 2020/2021
Veterinary specialisation school
A.Y. 2019/2020
Veterinary specialisation school
Research
Publications
Case Report : Use of Amniotic Microvesicles for Regenerative Medicine Treatment of a Mare With Chronic Endometritis / A. Lange Consiglio, F. Funghi, C. Cantile, A. Idda, F. Cremonesi, P. Riccaboni. - In: FRONTIERS IN VETERINARY SCIENCE. - ISSN 2297-1769. - 7(2020 Jun), pp. 347.1-347.6.

Prevalence and molecular characterisation of Sarcocystis miescheriana and Sarcocystis suihominis in wild boars (Sus scrofa) in Italy / A.L. Gazzonis, B. Gjerde, L. Villa, S. Minazzi, S.A. Zanzani, P. Riccaboni, G. Sironi, M.T. Manfredi. - In: PARASITOLOGY RESEARCH. - ISSN 0932-0113. - 118:4(2019 Feb 20), pp. 1271-1287.

Retrospective analysis of iatrogenic diseases in cattle requiring admission to a veterinary hospital / G. Sala, A. Boccardo, E. Fantinato, E. Coppoletta, V. Bronzo, P. Riccaboni, A. Belloli, D. Pravettoni. - In: VETERINARY RECORD OPEN. - ISSN 2052-6113. - 6:1(2019 Feb 18).

Prune belly-like syndrome in two calves / G. Sala, A. Boccardo, E. Coppoletta, P. Riccaboni, D.D. Zani, D. Pravettoni. - In: LARGE ANIMALS REVIEW. - ISSN 1124-4593. - 24:5(2018 Oct), pp. 201-204.

Genome-wide analysis of DNA methylation in hypothalamus and ovary of Capra hircus / S. Frattini, E. Capra, B. Lazzari, S.D. Mckay, B. Coizet, A. Talenti, D. Groppetti, P. Riccaboni, A. Pecile, S. Chessa, B. Castiglioni, J.L. Williams, G. Pagnacco, A. Stella, P. Crepaldi. - In: BMC GENOMICS. - ISSN 1471-2164. - 18:1(2017 Jun 23), pp. 476.1-476.9.