De Francesco Raffaele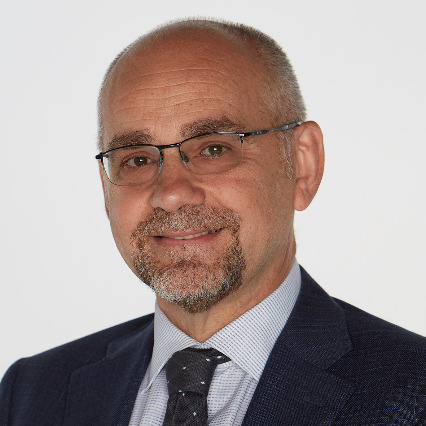 Full professor
SSD
BIO/19 - MICROBIOLOGY
Competition sector
05/I2 - MICROBIOLOGY
Research fields and competencies
Office
INGM, via Francesco Sforza 35, or DiSFeB, via Balzaretti 9, Milano
Teaching - Programme courses
Research
Publications
COVID-eVax, an electroporated DNA vaccine candidate encoding the SARS-CoV-2 RBD, elicits protective responses in animal models / A. Conforti, E. Marra, F. Palombo, G. Roscilli, M. Ravà, V. Fumagalli, A. Muzi, M. Maffei, L. Luberto, L. Lione, E. Salvatori, M. Compagnone, E. Pinto, E. Pavoni, F. Bucci, G. Vitagliano, D. Stoppoloni, M.L. Pacello, M. Cappelletti, F.F. Ferrara, E. D'Acunto, V. Chiarini, R. Arriga, A. Nyska, P. Di Lucia, D. Marotta, E. Bono, L. Giustini, E. Sala, C. Perucchini, J. Paterson, K.A. Ryan, A. Challis, G. Matusali, F. Colavita, G. Caselli, E. Criscuolo, N. Clementi, N. Mancini, R. Groß, A. Seidel, L. Wettstein, J. Münch, L. Donnici, M. Conti, R. De Francesco, M. Kuka, G. Ciliberto, C. Castilletti, M.R. Capobianchi, G. Ippolito, L.G. Guidotti, L. Rovati, M. Iannacone, L. Aurisicchio. - In: MOLECULAR THERAPY. - ISSN 1525-0016. - 29:12(2021 Dec), pp. 1-16. [10.1016/j.ymthe.2021.09.011]

Novel interferon-sensitive genes unveiled by correlation-driven gene selection and systems biology / C. Cheroni, L. Manganaro, L. Donnici, V. Bevilacqua, R.J.P. Bonnal, R.L. Rossi, R. De Francesco. - In: SCIENTIFIC REPORTS. - ISSN 2045-2322. - 11:1(2021 Sep 10), pp. 18043.1-18043.4. [10.1038/s41598-021-97258-8]

Integrated longitudinal immunophenotypic, transcriptional and repertoire analyses delineate immune responses in COVID-19 patients / S. Notarbartolo, V. Ranzani, A. Bandera, P. Gruarin, V. Bevilacqua, A.R. Putignano, A. Gobbini, E. Galeota, C. Manara, M. Bombaci, E. Pesce, E. Zagato, A. Favalli, M.L. Sarnicola, S. Curti, M. Crosti, M. Martinovic, T. Fabbris, F. Marini, L. Donnici, M. Lorenzo, M. Mancino, R. Ungaro, A. Lombardi, D. Mangioni, A. Muscatello, S. Aliberti, F. Blasi, T. De Feo, D. Prati, L. Manganaro, F. Granucci, A. Lanzavecchia, R. De Francesco, A. Gori, R. Grifantini, S. Abrignani. - In: SCIENCE IMMUNOLOGY. - ISSN 2470-9468. - 6:62(2021 Aug 10), pp. 1-18. [10.1126/sciimmunol.abg5021]

OXALAMIDO-SUBSTITUTED TRICYCLIC INHIBITORS OF HEPATITIS B VIRUS / R. De Francesco, L. Donnici, L. Guidotti, M. Iannacone, R. Di Fabio, V. Summa, A. Prandi, P. Randazzo, I. Bencheva, M. De Matteo, L. Ferrante, D. Gornati, A. Grillo.

Nanoparticle‐Mediated Suicide Gene Therapy for Triple Negative Breast Cancer Treatment / L. Salvioni, S. Zuppone, F. Andreata, M. Monieri, S. Mazzucchelli, C. Di Carlo, L. Morelli, C. Cordiglieri, L. Donnici, R. De Francesco, F. Corsi, D. Prosperi, R. Vago, M. Colombo. - In: ADVANCED THERAPEUTICS. - ISSN 2366-3987. - 3:8(2020 Aug), pp. 2000007.1-2000007.12.