Paroni Rita Clara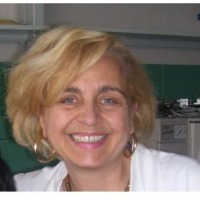 Associate Professor
SSD
BIO/12 - CLINICAL BIOCHEMISTRY AND MOLECULAR BIOLOGY
Competition sector
05/E3 - CLINICAL BIOCHEMISTRY AND MOLECULAR BIOLOGY
Research fields and competencies
Teaching - Programme courses
A.Y. 2019/2020
Postgraduate Schools - Medicine, Healthcare, Dental Medicine
A.Y. 2018/2019
Postgraduate Schools - Medicine, Healthcare, Dental Medicine
Research
Publications
CA.ME.LI.A. An epidemiological study on the prevalence of cardiovascular, metabolic, liver and autoimmune diseases in Northern Italy / M. Bignotto, M.D. Cas, R. Paroni, E. Bianco, P. Zermiani, M.G. Gangale, V. Zadro, M. Maregatti, A. Piagnani, A. Russo, D. Baldassarre, F. Folli, P.M. Battezzati, M. Zuin. - In: NMCD. NUTRITION METABOLISM AND CARDIOVASCULAR DISEASES. - ISSN 0939-4753. - 31:5(2021 May 06), pp. 1416-1426.

Myriocin modulates the altered lipid metabolism and storage in cystic fibrosis / P. Signorelli, F. Pivari, M. Barcella, I. Merelli, A. Zulueta, M. Dei Cas, L. Rosso, R. Ghidoni, A. Caretti, R. Paroni, A. Mingione. - In: CELLULAR SIGNALLING. - ISSN 0898-6568. - 81(2021 May), pp. 109928.1-109928.13.

Vitreous composition modification after transpalpebral electrical stimulation of the eye: Biochemical analysis / L. Colombo, A. Caretti, M. Dei Cas, F. Luciano, D. Romano, R. Paroni, F. Patelli, R. Ghidoni, L. Rossetti. - In: EXPERIMENTAL EYE RESEARCH. - ISSN 0014-4835. - 207(2021 Apr).

Tryptophan Derivatives by Saccharomyces cerevisiae EC1118: Evaluation, Optimization, and Production in a Soybean-Based Medium / M.V. Dei Cas, I. Vigentini, S. Vitalini, A. Laganaro, M. Iriti, R.C. Paroni, R.C. Foschino. - In: INTERNATIONAL JOURNAL OF MOLECULAR SCIENCES. - ISSN 1422-0067. - 22:1(2021), pp. 472.1-472.20.

Case Report: Microfragmented Adipose Tissue Drug Delivery in Canine Mesothelioma: A Case Report on Safety, Feasibility, and Clinical Findings / O. Zeira, E. Ghezzi, L. Pettinari, V. Re, D.M. Lupi, S.L. Benali, S. Borgonovo, G. Alessandri, F. Petrella, R.C. Paroni, M.V. Dei Cas, C. Tremolada, V. Cocce', A. Pessina. - In: FRONTIERS IN VETERINARY SCIENCE. - ISSN 2297-1769. - 7(2021).