Minucci Saverio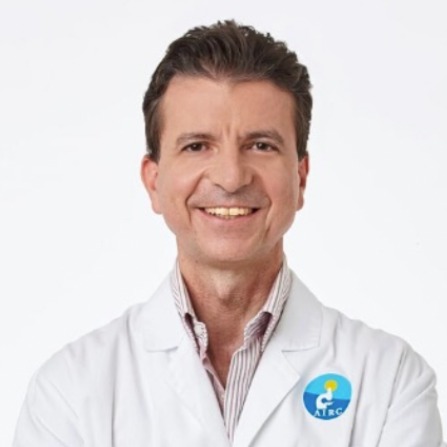 Full professor
SSD
MED/04 - EXPERIMENTAL MEDICINE AND PATHOPHYSIOLOGY
Competition sector
06/A2 - EXPERIMENTAL MEDICINE, PATHOPHYSIOLOGY AND CLINICAL PATHOLOGY
Research fields and competencies
Teaching - Programme courses
Research
Publications
MicroRNA-222 Regulates Melanoma Plasticity / M.C. Lionetti, F. Cola, O. Chepizhko, M. Rita Fumagalli, F. Font Clos, R. Ravasio, S. Minucci, P. Canzano, M. Camera, G. Tiana, S. Zapperi, C.A.M. La Porta. - In: JOURNAL OF CLINICAL MEDICINE. - ISSN 2077-0383. - 9:8(2020 Aug 08), pp. 2573.1-2573.20.

Targeting the scaffolding role of LSD1 (KDM1A) poises acute myeloid leukemia cells for retinoic acid-induced differentiation / R. Ravasio, E. Ceccacci, L. Nicosia, A. Hosseini, P.L. Rossi, I. Barozzi, L. Fornasari, R.D. Zuffo, S. Valente, R. Fioravanti, C. Mercurio, M. Varasi, A. Mattevi, A. Mai, G. Pavesi, T. Bonaldi, S. Minucci. - In: SCIENCE ADVANCES. - ISSN 2375-2548. - 6:15(2020), pp. eaax2746.1-eaax2746.14.

Preclinical models of breast cancer: Two-way shuttles for immune checkpoint inhibitors from and to patient bedside / A.K. Abdel-Aziz, M.K. Saadeldin, P. D'Amico, S. Orecchioni, F. Bertolini, G. Curigliano, S. Minucci. - In: EUROPEAN JOURNAL OF CANCER. - ISSN 0959-8049. - 122(2019 Nov), pp. 22-41.

Combination of Hypoglycemia and Metformin Impairs Tumor Metabolic Plasticity and Growth by Modulating the PP2A-GSK3β-MCL-1 Axis / M. Elgendy, M. Ciro, A. Hosseini, J. Weiszmann, L. Mazzarella, E. Ferrari, R. Cazzoli, G. Curigliano, A. DeCensi, B. Bonanni, A. Budillon, P.G. Pelicci, V. Janssens, M. Ogris, M. Baccarini, L. Lanfrancone, W. Weckwerth, M. Foiani, S. Minucci. - In: CANCER CELL. - ISSN 1535-6108. - 35:5(2019 May 13), pp. 798-815.e5.

Epigenomic profiling of archived FFPE tissues by enhanced PAT-ChIP (EPAT-ChIP) technology / S. Amatori, G. Persico, C. Paolicelli, R. Hillje, N. Sahnane, F. Corini, D. Furlan, L. Luzi, S. Minucci, M. Giorgio, P.G. Pelicci, M.C. Fanelli. - In: CLINICAL EPIGENETICS. - ISSN 1868-7083. - 10:1(2018 Nov 16).