Rossi Sergio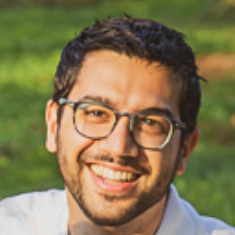 Fixed-term Research Fellow B
SSD
CHIM/06 - ORGANIC CHEMISTRY
Competition sector
03/C1 - ORGANIC CHEMISTRY
Research fields and competencies
Teaching - Programme courses
Research
Publications
Stereoselective organocatalysis and flow chemistry / A. Puglisi, S. Rossi. - In: PHYSICAL SCIENCES REVIEWS. - ISSN 2365-659X. - 6:4(2021).

Modulating the Enantiodiscrimination Features of Inherently Chiral Selectors by Molecular Design : A HPLC and Voltammetry Study Case with Atropisomeric 2,2'-Biindole-Based Monomers and Oligomer Films / L. Scapinello, S. Grecchi, S. Rossi, F. Arduini, S. Arnaboldi, A. Penoni, R. Cirilli, P.R. Mussini, T. Benincori. - In: CHEMISTRY-A EUROPEAN JOURNAL. - ISSN 0947-6539. - 27:52(2021), pp. 13190-13202. [10.1002/chem.202101170]

Stereoselective Visible-Light Catalyzed Cyclization of Bis(enones) : A Viable Approach to the Synthesis of Enantiomerically Enriched Cyclopentane Rings / F. Medici, S. Resta, P. Presenti, L. Caruso, A. Puglisi, L. Raimondi, S. Rossi, M. Benaglia. - In: EUROPEAN JOURNAL OF ORGANIC CHEMISTRY. - ISSN 1434-193X. - 2021:32(2021), pp. 4521-4524. [10.1002/ejoc.202100397]

DFT investigation on Lewis base-catalyzed Lewis acid-mediated reactions: Hypervalent silicon species as chiral organocatalysts in (direct) aldol reactions / S. Rossi, M. Benaglia, L.M. Raimondi. - In: NEW JOURNAL OF CHEMISTRY. - ISSN 1144-0546. - 44:44(2020 Nov 28), pp. 19288-19293.

Eosin Y : homogeneous photocatalytic in-flow reactions and solid supported-catalysts for in-batch synthetic transformation / F. Herbrik, P. Camarero Gonzalez, M. Krstic, A. Puglisi, M. Benaglia, M.A. Sanz, S. Rossi. - In: APPLIED SCIENCES. - ISSN 2076-3417. - 10:16(2020 Aug), pp. 5596.1-5596.16.