Cella Silvano Gabriele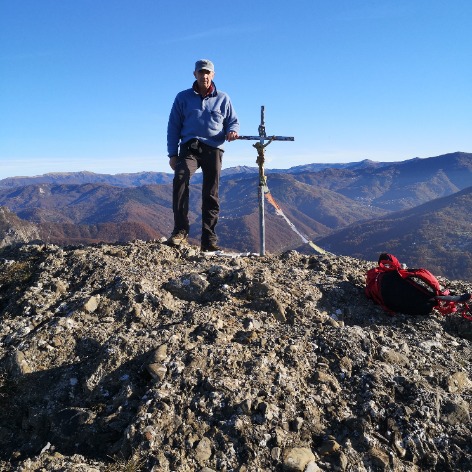 Tenured Associate Professor
SSD
BIO/14 - PHARMACOLOGY
Competition sector
05/G1 - PHARMACOLOGY, CLINICAL PHARMACOLOGY AND PHARMACOGNOSY
Research fields and competencies
Publications
The Appetite-Suppressant and GLP-1-Stimulating Effects of Whey Proteins in Obese Subjects are Associated with Increased Circulating Levels of Specific Amino Acids / A.E. Rigamonti, R. Leoncini, A. De Col, S. Tamini, S. Cicolini, L. Abbruzzese, S.G. Cella, A. Sartorio. - In: NUTRIENTS. - ISSN 2072-6643. - 12:3(2020 Mar 15).

Impact of a Three-Week in-Hospital Multidisciplinary Body Weight Reduction Program on Body Composition, Muscle Performance and Fatigue in a Pediatric Obese Population with or without Metabolic Syndrome / A. Rigamonti, G. Tringali, R. De Micheli, A. De Col, S. Tamini, A. Saezza, S. Cella, A. Sartorio. - In: NUTRIENTS. - ISSN 2072-6643. - 12:1(2020), pp. 208.1-208.17.

Effects of an acute bout of exercise on circulating extracellular vesicles : tissue-, sex-, and BMI-related differences / A.E. Rigamonti, V. Bollati, L. Pergoli, S. Iodice, A. De Col, S. Tamini, S. Cicolini, G. Tringali, R. De Micheli, S.G. Cella, A. Sartorio. - In: INTERNATIONAL JOURNAL OF OBESITY. - ISSN 0307-0565. - (2019 Oct 02). [Epub ahead of print]

Impact of Surgical Approach on Patient-Reported Outcomes after Radical Prostatectomy: A Propensity Score-Weighted Analysis from a Multicenter, Prospective, Observational Study (The Pros-IT CNR Study) / A. Antonelli, C. Palumbo, M. Noale, A. Porreca, S. Maggi, C. Simeone, P. Bassi, F. Bertoni, S. Bracarda, M. Buglione, G.N. Conti, R. Corvo, M. Gacci, V. Mirone, R. Montironi, L. Triggiani, A. Tubaro, W. Artibani, G. Crepaldi, P. Graziotti, E. Russi, M. Magrini Stefano, G. Muto, S. Pecoraro, U. Ricardi, V. Zagonel, R. Alitto Anna, E. Ambrosi, C. Aristei, M. Barbieri, F. Bardari, L. Bardoscia, S. Barra, S. Bartoncini, U. Basso, C. Becherini, R. Bellavita, F. Bergamaschi, S. Berlingheri, A. Berruti, M. Borghesi, R. Bortolus, V. Borzillo, D. Bosetti, G. Bove, P. Bove, M. Brausi, A. Bruni, G. Bruno, E. Brunocilla, A. Buffoli, C. Buttigliero, G. Cacciamani, M. Caldiroli, G. Cardo, G. Carmignani, G. Carrieri, E. Castelli, E. Castrezzati, G. Catalano, S. Cattarino, F. Catucci, F.D. Cavallini, O. Ceccarini, A. Celia, F. Chiancone, T. Chini, C. Cianci, A. Cisternino, D. Collura, F. Corbella, M. Corinti, P. Corsi, F. Cortese, L. Corti, N. de Cosimo, O. Cristiano, R. D'Angelillo, L. Da Pozzo, D. D'Agostino, C. D'Elia, M. Dandrea, M. De Angelis, P. De Angelis, O. De Cobelli, B. De Concilio, A. De Lisa, S. De Luca, A. De Stefani, C.L. Deantoni, C. Degli Esposti, A. Destito, B. Detti, N. Di Muzio, A. Di Stasio, C. Di Stefano, D. Di Trapani, G. Difino, S. Falivene, G. Farullo, P. Fedelini, I. Ferrari, F. Ferrau, M. Ferro, A. Fodor, F. Fontana, F. Francesca, G. Francolini, P. Frata, G. Frezza, P. Gabriele, M. Galeandro, E. Garibaldi, G. Gennari Pietro, A. Gentilucci, A. Giacobbe, L. Giussani, G. Giusti, P. Gontero, A. Guarneri, C. Guida, A. Gurioli, D. Huqi, C. Imbimbo, G. Ingrosso, C. Iotti, C. Italia, P. La Mattina, E. Lamanna, L. Lastrucci, G. Lazzari, F. Liberale, G. Liguori, R. Lisi, F. Lohr, R. Lombardo, J.A.J. Lovisolo, M. Ludovico Giuseppe, N. Macchione, F. Maggio, M. Malizia, G. Manasse, G. Mandoliti, G. Mantini, L. Marafioti, L. Marciello, M. Marconi Alberto, A. Martilotta, S. Marzano, S. Masciullo, G. Maso, A. Massenzo, E. Mazzeo, L. Mearini, S. Medoro, R. Mole, G. Monesi, E. Montanari, F. Montefiore, G. Montesi, G. Morgia, G. Moro, G. Muscas, D. Musio, P. Muto, G. Muzzonigro, G. Napodano, C.L.A. Negro, M. Nidini, M. Ntreta, M. Orsatti, C. Palazzolo, I. Palumbo, A. Parisi, P. Parma, N. Pavan, M. Pericolini, F. Pinto, A. Pistone, V. Pizzuti, A. Platania, C. Polli, G. Pomara, E. Ponti, A.B. Porcaro, F. Porpiglia, D. Pugliese, A. Pycha, G. Raguso, A. Rampini, F. Randone Donato, V. Roboldi, M. Roscigno, M.P. Ruggieri, G. Ruoppo, R. Sanseverino, A. Santacaterina, M. Santarsieri, R. Santoni, S. Scagliarini, V. Scagliotti Giorgio, M. Scanzi, M. Scarcia, R. Schiavina, A. Sciarra, C. Sciorio, T. Scolaro, S. Scuzzarella, O. Selvaggio, A. Serao, S. Serni, M.A. Signor, M. Silvani, G. Silvano, F. Silvestris, V. Simone, G. Spagnoletti, G. Spinelli Matteo, L. Squillace, V. Tombolini, M. Toninelli, A. Trinchieri, L.E. Trodella, L. Trodella, C. Trombetta, L. Tronnolone, M. Tucci, D. Urzi, R. Valdagni, M. Valeriani, M. Vanoli, E. Vitali, A. Volpe, S. Zaramella, G. Zeccolini, G. Zini. - In: UROLOGIA INTERNATIONALIS. - ISSN 0042-1138. - 103:1(2019 Jul 01), pp. 8-18.

Whey Proteins Reduce Appetite, Stimulate Anorexigenic Gastrointestinal Peptides and Improve Glucometabolic Homeostasis in Young Obese Women / A.E. Rigamonti, R. Leoncini, C. Casnici, O. Marelli, A.D. Col, S. Tamini, E. Lucchetti, S. Cicolini, L. Abbruzzese, S.G. Cella, A. Sartorio. - In: NUTRIENTS. - ISSN 2072-6643. - 11:2(2019 Feb 01).