Santaguida Stefano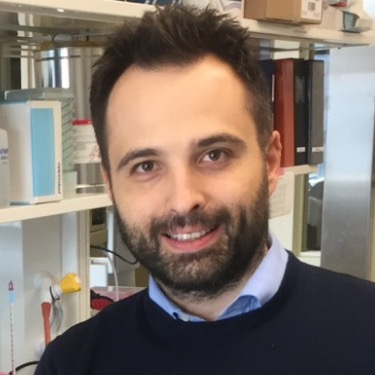 Fixed-term Research Fellow B
SSD
BIO/11 - MOLECULAR BIOLOGY
Competition sector
05/E2 - MOLECULAR BIOLOGY
Research fields and competencies
Teaching - Programme courses
A.Y. 2018/2019
Postgraduate Schools - Medicine, Healthcare, Dental Medicine
Research
Publications
Understanding Complexity of Cancer Genomes : Lessons from Errors / S. Martin, S. Santaguida. - In: DEVELOPMENTAL CELL. - ISSN 1534-5807. - 53:5(2020 Jun 08), pp. 500-502.

Protein aggregation mediates stoichiometry of protein complexes in aneuploid cells / C.M. Brennan, L.P. Vaites, J.N. Wells, S. Santaguida, J.A. Paulo, Z. Storchova, J.W. Harper, J.A. Marsh, A. Amon. - In: GENES & DEVELOPMENT. - ISSN 0890-9369. - 33:15-16(2019 Aug), pp. 1031-1047.

Generation and isolation of cell cycle-arrested cells with complex karyotypes / R.W. Wang, E. Macduffie, S. Santaguida. - In: JOURNAL OF VISUALIZED EXPERIMENTS. - ISSN 1940-087X. - 2018:134(2018 Apr).

Aneuploidy and cancer - a complicated relationship / A. Amon, S. Santaguida, J. Sheltzer, S. Pfau. - In: ENVIRONMENTAL AND MOLECULAR MUTAGENESIS. - ISSN 0893-6692. - 58:1(2017 Sep), pp. K1.S22-K1.S22. ((Intervento presentato al convegno Annual Meeting of the Environmental-Mutagenesis-and-Genomics-Society (EMGS) on Environmental Health Sciences Bridging the Gap between Exposure, Mechanism and Public Health : September, 9th -13th tenutosi a Raleigh (NC) nel 2017.

Aneuploid Cell Survival Relies upon Sphingolipid Homeostasis / Y. Tang, Y. Hui, K. Wang, P. Bruno, K. Bullock, A. Deik, S. Santaguida, M. Trakala, S. Pfau, N. Zhong, T. Huang, L. Wang, C. Clish, M. Hemann, A. Amon. - In: CANCER RESEARCH. - ISSN 0008-5472. - 77:19(2017), pp. 5272-5286.