Visentin Stefano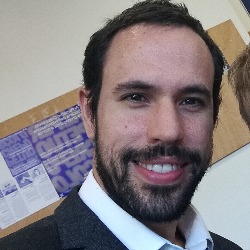 Type B Postdoctoral Fellow
Research fields and competencies
Research
Publications
Taxonomic revision of genus Carinolithus (Early - Middle Jurassic) based on morphometric analyses and diagenesis observations: implications for biostratigraphy and evolutionary trends / S. Visentin, G. Faucher, E. Mattioli, E. Erba. - In: MARINE MICROPALEONTOLOGY. - ISSN 0377-8398. - 162(2021 Jan), pp. 101950.1-101950.11.

CALCAREOUS NANNOFOSSIL BIOSTRATIGRAPHY AND TAXONOMY ACROSS THE EARLY TOARCIAN OCEANIC ANOXIC EVENT: A COMPARISON BETWEEN TETHYAN AND BOREAL SECTIONS / S. Visentin ; tutor: E. Erba ; coordinatore del dottorato: F. Camara Artigas. - Milano : Università degli studi di Milano. DIPARTIMENTO DI SCIENZE DELLA TERRA "ARDITO DESIO", 2020 Feb 04. ((32. ciclo, Anno Accademico 2019.

Coring the sedimentary expression of the early Toarcian Oceanic Anoxic Event: New stratigraphic records from the Tethys Ocean / E. Erba, G. Gambacorta, S. Visentin, L. Cavalheiro, D. Reolon, G. Faucher, M. Pegoraro. - In: SCIENTIFIC DRILLING. - ISSN 1816-8957. - 26(2019 Dec 02), pp. 17-27.

La risposta del nannoplancton calcareo agli Eventi Anossici Oceanici: il record pelagico in Italia [The response of calcareous nannoplankton to Oceanic Anoxic Events: The Italian pelagic record] / E. Erba, C. Bottini, G. Faucher, G. Gambacorta, S. Visentin. - In: BOLLETTINO DELLA SOCIETÀ PALEONTOLOGICA ITALIANA. - ISSN 0375-7633. - 58:1(2019), pp. 51-71. ((Intervento presentato al convegno Symposium on Environmental Crises and Biotic Responses in the History of the Earth - An Italian Perspective at the Congress of the Italian-Paleontological-Society (SPI) : June, 06 - 08 tenutosi a Torino nel 2018.

Efficacy of a new technique - INtubate-RECruit-SURfactant-Extubate - "IN-REC-SUR-E" - in preterm neonates with respiratory distress syndrome : Study protocol for a randomized controlled trial / G. Vento, R. Pastorino, L. Boni, F. Cota, V. Carnielli, F. Cools, C. Dani, F. Mosca, J. Pillow, G. Polglase, P. Tagliabue, A.H. van Kaam, M.L. Ventura, M. Tana, C. Tirone, C. Aurilia, A. Lio, C. Ricci, A. Gambacorta, C. Consigli, D. D'Onofrio, C. Gizzi, L. Massenzi, V. Cardilli, A. Casati, R. Bottino, F. Pontiggia, E. Ciarmoli, S. Martinelli, L. Ilardi, M. Colnaghi, P.G. Matassa, V. Vendettuoli, P. Villani, F. Fusco, D. Gazzolo, A. Ricotti, F. Ferrero, I. Stasi, R. Magaldi, G. Maffei, G. Presta, R. Perniola, F. Messina, G. Montesano, C. Poggi, L. Giordano, E. Roma, C. Grassia, G. Ausanio, F. Sandri, G. Mescoli, F. Giura, G. Garani, A. Solinas, M. Lucente, G. Nigro, A. Del Vecchio, F. Petrillo, L. Orfeo, L. Grappone, L. Quartulli, A. Scorrano, H. Messner, A. Staffler, G. Gargano, E. Balestri, S. Nobile, C. Cacace, V. Meli, S. Dallaglio, B. Pasqua, L. Mattia, E. Gitto, M. Vitaliti, M.P. Re, S. Vedovato, A. Grison, A. Berardi, F. Torcetta, I. Guidotti, S. di Fabio, E. Maranella, I. Mondello, S. Visentin, F. Tormena. - In: TRIALS. - ISSN 1745-6215. - 17:1(2016 Aug 18), pp. 414.1-414.10.