Recruiting Days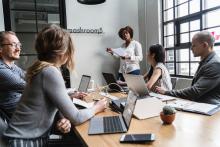 Recruiting days provide you with the opportunity to participate in company presentations and internship / job pre-selections.
The meetings are reserved for students and graduates of the degree programmes targeted by the companies.
New Game Designer - Speed Dating for Jobs
Giovedì 27 giugno 2019
Università degli Studi di Milano
CTU - Centro per le tecnologie e la didattica universitaria
Polo di Mediazione Interculturale e Comunicazione
Piazza I. Montanelli 14, Sesto S. Giovanni (MI)
Giovedì 28 giugno 2018
New Game Designer 2018: l'evento finalizzato a promuovere la competenza, sia didattica che di ricerca, presente nel nostro Ateneo nell'area entertainment, con particolare enfasi sui videogiochi.
Alcune delle aziende partecipanti incontrano studenti e laureati di informatica e altri corsi di laurea, per degli "speed dating for jobs".
Gli speed dating for job sono veloci incontri "one to one" con i responsabili delle aziende che stanno cercando stagisti e personale.
Speed dating for jobs
Università degli Studi di Milano
Primo Piano - Sala Riunioni e Aula P11
dalle 13.30 alle 16.30
Piazza Montanelli, 14
Sesto S. Giovanni (MI)
Per individuare le aziende che ricercano il tuo profilo e scoprire cosa propongono, abbiamo predisposto delle schede delle opportunità di lavoro e stage proposte dalle realtà che partecipano agli speed dating for job.
E' inoltre disponibile un "Vademecum per il candidato" per prepararsi al meglio all'incontro con le aziende.
Ovviamente è indispensabile presentarsi con il proprio curriculum vitae aggiornato.
Aziende Partecipanti
Digital Tales
EDI - Effetti Digitali Italiani
Forge Reply
Milestone
TXT e-solutions / Sense division
Ubisoft Milan
Wattwapp Entertainment