Office of the Managing Director
Office of the Managing Director
General Director
On 26 March 2019, the Board of Directors appointed Roberto Conte as General Director, giving the Rector a mandate to sign a three-year contract with Mr. Conte, who had already been acting in his office since 1 January 2019.
Mr. Conte's appointment as General Director starts from 1 May 2019.
Roberto Conte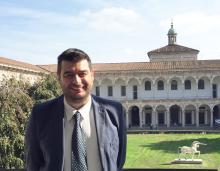 Born in 1966, Roberto Conte graduated in Law from the University of Milan. He pursued his career at the University, where he was hired in 1988. 
After holding various positions of responsibility in the legal area, he became second-level manager in 2010 and led the Legal Affairs and Procurement Management Office from 2016 to 2018. 
Mr. Conte has also held specialist roles for the University, including those of Certifying Officer and General Attorney (appointed by the Rector) defending the University before the Labour Court, the Court of Auditors, tax commissions and in settlement procedures. 
He is currently a member of the Advisory Board appointed by the Rector for all preliminary deeds required for moving the Science departments from Città Studi to the Milan Innovation District (MIND).
Role and functions of the General Director
The General Director is responsible for the overall economic and financial management, administrative and technical processes and services, capital equipment and resources, and technical and administrative staff of the University.
A highly-qualified professional with a strong managerial track record, the General Director is appointed by the Board of Directors, on the proposal of the Rector, after consulting with the Academic Senate.
The functions of the General Director
The General Director's functions are stated in Article 58 of the University Statute.
Secretariat
The General Director's Secretariat:
manages the General Director's institutional activities, taking care of his agenda, correspondence, meetings and trips
handles relations with the Rector's, Deputy Rectors' and office heads' secretariats
maintains  confidential records
manages the central desk that coordinates the activities of local help desks for administrative services.
General Director - Staff Offices